First tropical storm of the season likely to form this weekend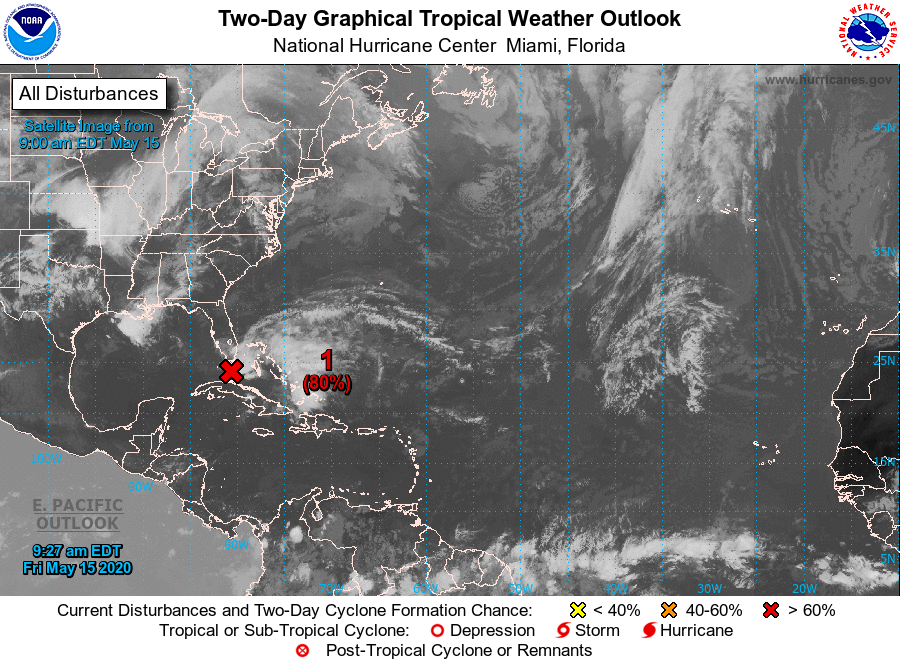 June 1 is the official start to Atlantic hurricane season, but a weather system forming now may make this the sixth straight year with a tropical system forming before that date.
Experts at the National Hurricane Center (NHC) say it is likely that this low pressure center may become a tropical storm or a subtropical storm, by late Friday night or Saturday, near the northwestern Bahamas.
There is an 80% chance this forms into a named storm system, the NHC says.
Regardless of if it gets a name or not, the storm will bring periods of heavy rainfall to parts of the Florida Keys, southeastern Florida, and in the Bahamas, through Saturday. Tropical-storm-force wind gusts are also possible across this region.
 The system is very unorganized now but is expected to move into an area of lower wind shear, which is a much more favorable environment. This will allow the storm to become more organized and strengthen. This potential storm is not likely to become a full hurricane.
According to the National Hurricane Center, an Air Force Reserve Hurricane Hunter aircraft is scheduled to investigate this system on Friday to determine how organized the storm is becoming and the strength.