Former Hastings teacher sentenced on reduced charges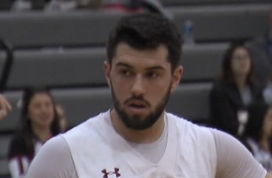 A former Hastings teacher accused of having sex with a 16-year-old student was sentenced to jail time after pleading to reduced charges.
A judge on Friday sentenced Tyler Hedlund, 23, who was a first-year physical education teacher and coach at Hastings St. Cecilia, to 120 days in jail on counts of procuring alcohol for a minor and contributing to the delinquency of a minor, according to court documents.
The sentences are to be served consecutively, and Hedlund received credit for one day served. He was also sentenced to 18 months of probation.
In April, the Hastings Police Department began investigating reports of a relationship between Hedlund and the student.
According to court documents, the student told investigators she exchanged numbers with Hedlund and the two saw each other on a number of occasions. The two met about 20 times in total, and had sex during 6-7 of those meetings, the documents say, with all but one of those meetings occurring at Hedlund's home.
The documents also say Hedlund provided alcohol to the student and her friends on several occasions.