Gov. Pete Ricketts proclaims month to honor Nebraska's foster parents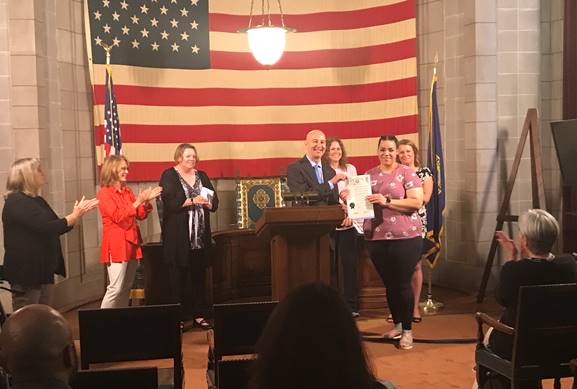 LINCOLN, Neb. (KLKN) – On Thursday, Gov. Pete Ricketts proclaimed May as Foster Care Month during a ceremony at the State Capitol.
The proclamation is designed to thank and honor active or previous foster parents.
According to Stephanie Beasley, director of the Division of Children and Family Services at the Department of Health and Human Services, the priority of foster care is to keep children within their families.
If the child must be removed from their home, social workers first try to place them with a family member before looking at other options.
"The priority of foster care is to get children back with their families," Beasley said.
DHHS and the Nebraska Foster and Adoptive Parent Association are looking to help struggling parents to prevent the removal of children from homes in the first place.
Currently, the majority of foster parents are family members of the children in need.  However, the last few years saw a greater need as families struggled throughout the pandemic.
The theme for this year's Foster Care Month is "Relative and Kin Connections: Keeping Families Strong" signifying the importance of relatives being involved in the lives of foster children.
Felicia Nelson, executive director of Nebraska Foster and Adoptive Parent Association said, "The children need a foster home that will accept and love them for who they are and where they're at."
Becoming a foster parent involves five steps.  Those interested in becoming a foster parent should review each step to see if they qualify.
1. Background checks – Are required for all members of their household ages 18 and older, including a national criminal history check through fingerprinting for all household members ages 18 and older.
2. Home Study – A home study is required and is conducted by either DHHS or a contracted foster care agency.
3. References – Three positive references are required for each adult household member who will provide care to children.
4. Application – A completed foster care licensing application and a health information report are required for each adult household member providing care, signed by a health practitioner.  These forms are provided by DHHS.
5. Training – Adult household members providing care are required to attend foster parent pre-service training.  This training is offered by DHHS.
Prospective foster parents can contact the Nebraska Foster and Adoptive Parent Association at 800-772-7368.
Additional information and support for people considering becoming foster parents can be found at the Nebraska DHHS website or at nfapa.org.
Parents who are already fostering a child can visit the Nebraska Friends of Foster Children website at ne-friends.org to apply for grants or access unique resources that help with providing care for foster children.