Grand Island, 35-years after the tornadoes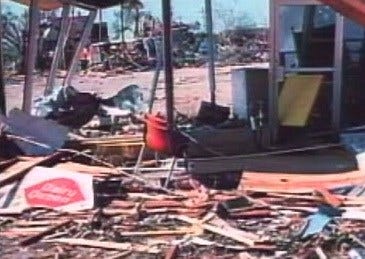 Posted By: Jenn Hatcher
jhatcher@klkntv.com
The night is infamous to the people of Grand Island, June 3rd, 1980.
Tornadoes, that would now qualify as EF1 to EF4 hit the city, causing extensive damage.
"It's something that you'll never forget," said lifelong Grand Island resident, Craig Lewis.
The storm lasted nearly three hours, creating seven tornadoes. Five people were killed, which many called lucky.
"We lost very few lives with that much destruction, it's pretty amazing," said Lewis, the now Grand Island Building Department Director.
He shares stories from the night those twisters wreaked havoc, with many too young to have lived through them. Stories like this: Lewis said, "When we came out after it was done, of course it was dark by then and there was lighting because there was storms still going by and when the lighting would hit you would expect to see buildings and trees in the distance… and you couldn't see anything, no houses, no trees, it was just pretty much leveled in those areas."
Lewis said, looking at the city now, there's very little evidence that areas were once rubble. He credits the quick rebuilding process to folk's allegiance to their hometown.
"One of the great great things about Nebraska, living in these communities, we chose to live here, we don't have to and it's just a lot of really fantastic people who help their neighbors out," said Lewis.
And 35-years later that's what most remember, the outpouring of support after the night of the twisters.