'It's just wildly dry': Lincoln records lowest amount of spring rain since Dust Bowl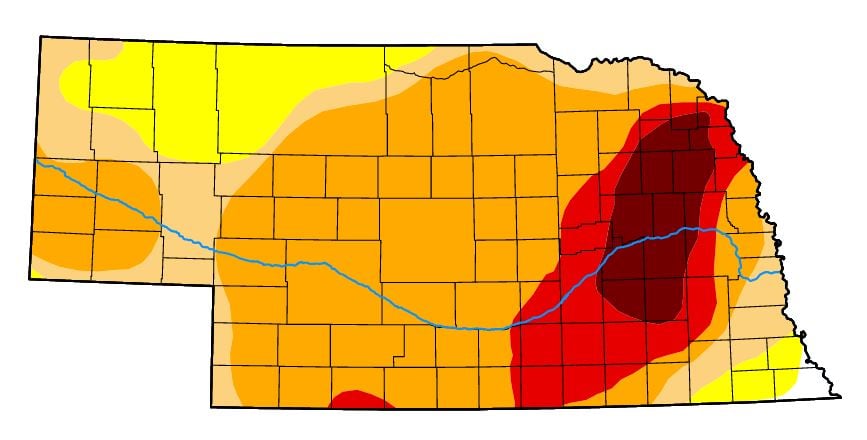 LINCOLN, Neb. (KLKN) – The newest drought monitor map of Nebraska shows that conditions in the eastern part of the state are continually getting worse.
With dry conditions continuing in May, Lincoln could soon be in the worst drought in over 10 years.
The map was released with the latest data on Thursday, and Lincoln is in the extreme drought category.
A good portion of eastern Nebraska is in the worst category, which is exceptional drought.
Taylor Nicolaisen, a meteorologist at the National Weather Service in Omaha, said he wouldn't be surprised if the Capital City is soon under exceptional drought as well.
"It's just wildly dry here in the last 30 days, and this is the wet season, so we should be soaking up a lot of rain this time of year," he said. "This is when we really make things up with thunderstorms and widespread rain, and it's not happening. So that's a little bit scary for drought conditions."
Brad Rippey, an agricultural meteorologist for the U.S. Department of Agriculture, said this drought was anticipated after the dry winter.
"Once you get a deficit that's built up like this, that's been building since the summer of 2022, it makes it very tough to recover from this situation," he said.
Through March, April and May of this year, Lincoln has had fewer than 2 inches of precipitation.
The last time that happened was during the Dust Bowl in 1934.
And until Thursday night's rain, Lincoln was tied with its driest May on record.
Rippey said downpours won't help now.
"If that rain falls too quickly on these drought-parched soils, it can just flash right off," he said. "We can only hope that we get some good slow, soaking rains over the next few weeks, but at the moment, it doesn't look like that's going to happen in the near future."
The good news is that both Nicolaisen and Rippey said there is hope this year as we transition from La Nina to El Nino.
For the past three years, we've been in a La Nina phase, which is when the sea surface temperature cools in the Pacific Ocean near the equator.
That seems to be a contributing factor to our dryness this year.
But over this summer, we are moving to the El Nino phase, when the sea surface temperature rises.
Both experts believe it could bring moisture our way soon.
For now, there are small things you can do to help the situation.
"It's things like not watering your grass," Rippey said. "Just little things you can do might make a little bit of a difference."
Channel 8 also reached out to the City of Lincoln to ask if it will be taking any action.  Officials said they will give an update on water and drought conditions next week.