Harvard puts Nebraska in the 'Red Zone', suggesting a stay at home order
While Harvard suggest a stay at home order, one of the nations top leading infectious disease experts said mitigation can be much simpler.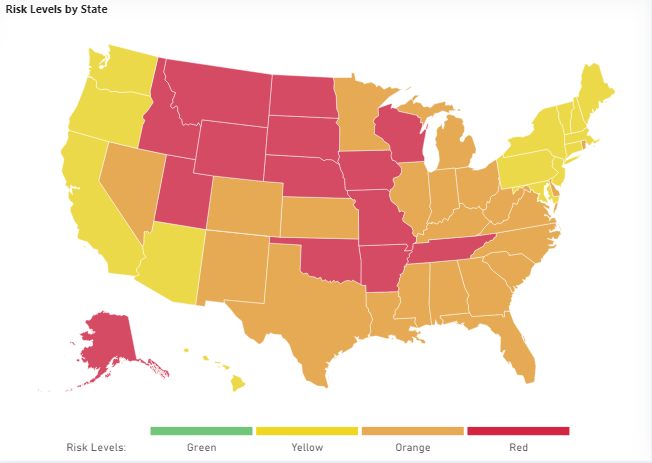 LINCOLN, Neb. (KLKN) – One of the nations top leading infectious disease experts with a big warning to Americans as COVID–19 case numbers are on the rise.
"If you look at whats going on in the United States its really very troublesome. A number of states right now are having an increase in test positivity," Dr. Anthony Fauci said in an interview with CNN's Jake Tapper Monday.
It's not just Dr. Fauci, the Harvard Global health Institute updated it's COVID risk level map of the U.S. putting 13 states in the red zone, including Nebraska.
"You look at the map with color coding of cases in the states going, you see states in the Northwest and the Midwest going in the wrong direction right now," Dr. Fauci said.
Nebraska ranks 6th on Harvards list for daily new cases per 100,000 people. Right now, the state is averaging about 33.2 new cases under that statistic.
What exactly does it mean to be in the red zone? The red suggests a state is at its 'tipping point' and that a 'stay at home order is necessary'.
However, Dr. Fauci says, controlling a surge can be much simpler.
"I think people think when we talk about public health, we are talking about shutting down. Lets get that off the table. We are not talking about shutting down. We're talking about simple public health measures, as simple as they sound, are really quite effective," Dr. Fauci said.
He said there's five simple steps that can have a major impact on preventing surges or even turning surges around.
We must wear masks, wash our hands, social distance, avoid large crowds, and if you are around people, try to stay outside rather than in an enclosed space. Fauci says that last rule, is about to be made more difficult in the coming months, making it all the more critical to stay diligent while you can.
"We're entering the cool months of the fall and ultimately the cold months of the winter and that's just a recipe of a real problem if we don't get things under control before we get into that seasonal challenge," Dr. Faucis says.
If you'd like to look at the map from Harvard along with the data, here's their website.