Heat Advisory in effect for your Tuesday 8/24/2021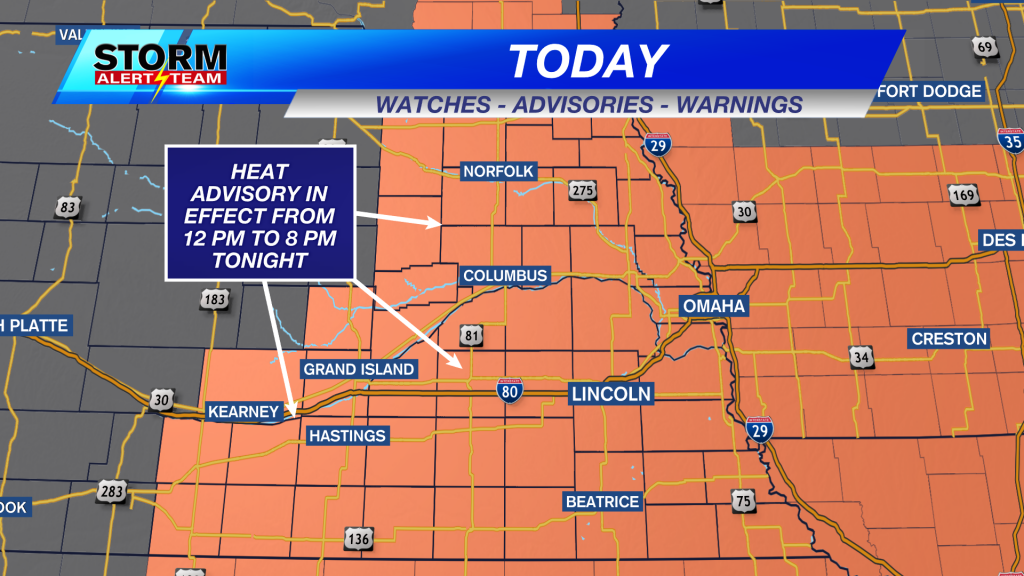 Most of Nebraska is off to a dry start this morning, except for the western half of the state which is seeing some scattered rain. All of the state is on the warmer side this morning, with temperatures in the 70s and muggy conditions. The hot temperature trend continues into today with highs in the upper 90s and even triple digits. All of the area will see heat index values in the triple digits, hence why a Heat Advisory is in effect from 12PM to 8PM. Make sure to practice your heat safety today and stay hydrated.
We cool down a little the next few days, but heat index values will still be in the upper 90s. Rain chances also return daily, with the next best chance being later today mainly in northeast Nebraska. The rain will shift southward overnight and into early Wednesday morning. Isolated chances of rain then return for the rest of the week, with a better chance for rain on Sunday.
TODAY: Highs warm to the upper 90s and triple digits today with heat index values hovering around 110 degrees. Chance for scattered rain mainly in northeast Nebraska today and overnight. HIGH: 100 HEAT ADVISORY IN EFFECT 12PM-8PM​
WEDNESDAY: Slightly cooler but still dangerously hot out with heat index values in the triple digits. AM showers likely for some. HIGH: 94
THURSDAY: Stuck in the mid-90s still with the chance for isolated rain. HIGH: 96
FRIDAY: Another day with highs in the mid-90s and isolated rain. HIGH: 94
SATURDAY: Highs drop to the low 90s with mostly cloudy skies. HIGH: 91
Meteorologist Brittany Foster
@BrittFosterKLKN
bfoster@klkntv.com