Highlights- No. 1 Concordia women's basketball stays unbeaten at home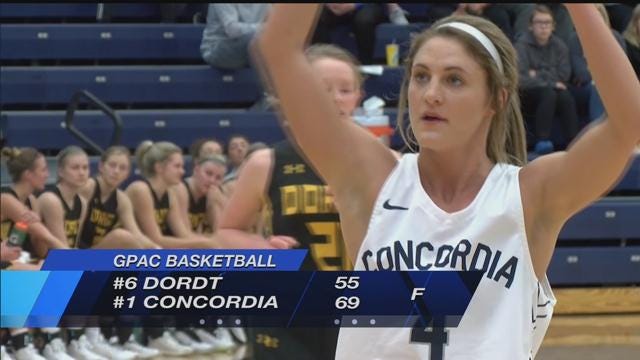 jkoller@klkntv.com
Highlights- No. 1 Concordia women's basketball stays unbeaten at home with a victory over No. 6 Dordt. WATCH:
Courtesy: Concordia Media Relations
SEWARD, Neb. – Philly Lammers of Concordia and Erika Feenstra of Dordt were the headliners coming into play, but it was Riley Sibbel and a stingy Bulldog half-court defense that stole the show. Top-ranked Concordia held the sixth-ranked Defenders to 36.7 percent shooting and forced 29 turnovers while posting a 69-55 victory inside Walz Arena on Saturday (Jan. 4).
It has been a stellar week for 14th-year head coach Drew Olson's squad, which also notched a 97-81 win at No. 12 Northwestern on Thursday. The quick turnaround was no problem.
"It was a weird game," Olson said. "They're a good defensive team, but we were just really bad on offense. We missed some shots we normally make and got a bit tentative at times. We find ways to win. Tonight it was on the defensive end. Our half-court defense was really focused in on what we wanted to do against them."
Sibbel has enjoyed quite a start to 2020. She matched the career high of 15 points that she had at Northwestern by pouring in a game high 26 points on Saturday. Sibbel was the key to keeping the Bulldogs afloat during a first half that saw her score nearly half the team's points (20 of 41). Then in the fourth quarter, Grace Barry took over by recording 10 of her 16 points over the game's final 6:06 of game time.
Of course Sibbel and her teammates play some nasty defense. Sibbel plucked three steals while Concordia limited Feenstra to only three shot attempts and eight points. The only Defender to reach double figures was Ebby Prewitt, who contributed 13 points. It was especially rough from 3-point range, where Dordt (14-3, 6-3 GPAC) went 5-for-24 (.208).
"We weren't really in the offensive flow we usually have," Sibbel said. "I think one thing that helped us is the past week we've really been focusing on our defense and getting stops. That's really what helped us today. We found a way to get it done on the defensive side of the floor."
At times Dordt tried to give the Bulldogs a dose of their former medicine with some full-court pressure. It did not work quite as well as the visitors had hoped. Concordia fed off a plus-17 turnover margin. Amazing Grace dished out nine assists compared to three turnovers. Mackenzie Koepke joined Sibbel and Barry in double figures with 12. All five starters had at least two steals. Philly Lammers was frustrated into a 1-for-9, two-point outing, but she did lead all players with eight rebounds.
Just like Thursday, the starters logged heavy minutes. They answered the bell. Sibbel looks to be a strong candidate for GPAC Player of the Week with her impressive three-day stretch. She went 10-for-15 from the floor on Saturday.
"She's been playing really confidently," Olson said. "I just love the aggressiveness she's taken on. She can step up and knock down threes, but also get to the rim. She was a huge part of our success today."
Bill Harmsen's squad gave Concordia as many fits as anyone during last season's national title run. The Defenders topped the Bulldogs in double overtime, 97-92, last January and then fell 90-88 in late January at Walz in another wire-to-wire clash.
The Bulldogs have a major showdown coming up Wednesday when they will be at Lynn Farrell Arena for a clash with Hastings (17-0, 9-0 GPAC) at 6 p.m. CT. The unbeaten Broncos have equaled a school record for most consecutive victories to begin a season. Concordia has had their number with eight-straight wins in the series.