Hurricane Irma now a category 4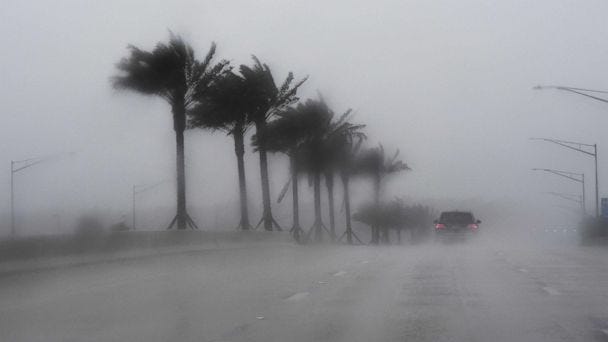 For the latest updates go to: abcnews.go.com
Just hours after Hurricane Irma strengthened Friday night to a Category 5 storm as it made landfall on Cuba, the monster storm went back to a Category 4 storm around 5 a.m. Saturday, the National Hurricane Center announced.
Its maximum sustained winds decreased to 155 mph, but the storm remains strong as it moves closer to South Florida at a speed of 12 mph. As of 5 a.m., it was 245 miles southeast of Miami. Just three hours earlier, it was 275 miles south-southeast of the city.
The storm's track has shifted slightly to the west, creating a "very, very dangerous situation for western Florida," says ABC News meteorologist Daniel Manzo. Major hurricane conditions will slam communities on Florida's west coast, including Naples and Fort Myers, he added. Landfall may also occur as far north as Tampa as a strong Category 3 hurricane.
South Florida is already experiencing power outages, according to the Florida Power & Light Company. As of 3 a.m. Saturday, in Miami-Dade County there were 9,613 outages affecting 1,124,252 customers. In Broward County, which includes Fort Lauderdale, there were 456 outages affecting 939,339 customers.
Ahead of Irma's arrival in the Sunshine State, the last flights departed Friday night from Miami International Airport and Fort Lauderdale-Hollywood International Airport. Miami's airport officially remains open, while Fort Lauderdale's airport is closed on Saturday and Sunday.
Also ahead of its arrival, The Associated Press reported late Friday night that many ATM machines across southwest Florida were out of cash as people stocked up in case Hurricane Irma power outages make credit card transactions impossible.
Meteorologists expect Irma to make landfall in the Keys between 5 a.m. and 7 a.m. ET on Sunday. Overnight projections of Irma's path showed less of a threat to the Carolinas as the monster storm appeared likely to move directly up the middle of Florida and curve inland.
The National Weather Service's Key West office issued a dire warning in the wake of the updated forecast.
"Obviously Hurricane Irma continues to be a threat that is going to devastate the United States," Brock Long, administrator of the Federal Emergency Management Agency (FEMA), said at a press conference Friday morning. "We're going to have a couple rough days."
The National Hurricane Center on Friday cautioned that Irma is "extremely dangerous," with maximum sustained winds of 155 mph, which are strong enough to uproot trees, bring down power poles and rip off the roofs and some exterior walls of well-built frame homes.
The National Hurricane Center issued its first hurricane warnings for Florida overnight, warning residents that "preparations to protect life should be rushed to completion."
Mandatory evacuation orders have been issued for barrier islands, coastal communities, low-lying areas and mobile homes across Florida, including the counties of Brevard, Broward, Collier, Indian River, Martin, Miami-Dade, Monroe, Palm Beach and St. John. According to the Florida Division of Emergency Management, 5.6 million Floridians have been told to evacuate.
Timothy Fadek/Redux for ABC News
Collins Avenue in South Miami Beach is mostly deserted on Sept. 8, 2017. A mandatory evacuation order was issued for South Beach in anticipation of Hurricane Irma.more +
Meteorologists predict Irma will continue to weaken as the storm moves inland Sunday into Monday. Irma will approach Jacksonville on Monday around 8 a.m. ET with winds of about 75 mph, which would make it a dangerous Category 1 hurricane. Then, Irma should weaken rapidly to a tropical storm, depression or a remnant low later Monday as it moves across state lines into Georgia, then potentially Alabama and Tennessee on Tuesday into Wednesday, meteorologists say.
Disney World announced in a statement Friday afternoon that its theme parks and water parks — as well as Disney Springs and the ESPN Wide World of Sports Complex — would be closing early Saturday and remain closed through Monday. Disney's resort hotels will remain open.
The worst of Irma's winds and storm surge are projected to be near Marathon and Key Largo, but meteorologists say Miami and heavily populated southeastern Florida will still be on the strongest side of the storm.
Virginia Gov. Terry McAuliffe on Friday declared a state of emergency in anticipation of Irma's potential impact.
"It is unfortunate that just as our nation has begun the process to repair the catastrophic damage from Hurricane Harvey, that we are faced with another extreme storm," McAuliffe said in a statement. "However, if there is one lesson we can take from the tragic events that occurred in Texas, it is that we must redouble our preparation efforts."
Meanwhile, Georgia Gov. Nathan Deal has declared a state of emergency for 94 counties in the state.
Erik S. Lesser/EPA
Hurricane Irma evacuating traffic streaming out of Florida creeps along northbound Interstate 75 after a vehicle accident in Lake Park, Ga., Sept. 6, 2017.more +
A storm-surge warning was in effect Friday morning for the Florida Keys and the Sebastian Inlet southward around the Florida peninsula to Venice, with the National Hurricane Center saying there is "danger of life-threatening inundation from rising waters moving inland from the coastline, during the next 36 hours."
Approximately 5.6 million Floridians have received evacuation orders, both voluntary and mandatory, the Florida Division of Emergency Management told ABC News late Friday night. That figure exceeds 6 million people, when South Carolina and Georgia are included.
There are facilities to shelter 1 million people in Florida, a FEMA spokesperson told ABC News, but the question will be whether there is enough staffing to accommodate all of the evacuees.
More people are expected to go to shelters on Florida's west coast, Gov. Rick Scott said in a press conference Friday night.
Some shelters are already at capacity on the west coast. Two more shelters are opening in Lee County — in the Fort Myers area — and three new shelters are opening in Collier County — in the Naples area, Scott said.
Palm Beach County has issued a curfew to prevent looting and other criminal activity as the storm approaches, according to a press release. The curfew goes into effect Saturday at 3 p.m. It is unclear when it will be lifted.
Rainfall accumulations in southeast Florida and the Florida Keys are expected to reach 10 to 15 inches, with totals up to 20 inches locally. Eastern Florida up the coast to Georgia is expected to receive 8 to 12 inches, according to the National Hurricane Center.
As the storm moves north, heavy rains are forecast to drench northern Florida, Georgia and even possibly South Carolina and Tennessee by Tuesday.
South Carolina Gov. Henry McMaster has issued mandatory evacuations for barrier islands in Colleton, Beaufort and Jasper, the South Carolina Emergency Management Division announced Friday night.
Government personnel have been deployed from Alabama to North Carolina to prepare for Irma. Florida alone should anticipate days-long power outages, FEMA said.
Turks and Caicos pummeled, Bahamas next
The Turks and Caicos islands were hit hard as Irma passed over the tiny archipelago in the Atlantic Ocean. A government spokesperson told ABC News the British overseas territory had sustained "catastrophic" damage.
The National Hurricane Center warned of a storm surge up to 20 feet on Turks and Caicos with 8 to 12 inches of rain for the low-lying islands through Sunday.
Portions of the island sustained different scales of infrastructural damage, but there have been no reported deaths or injuries from the storm, the office of Turks and Caicos Premier Sharlene Cartwright-Robinson said in a statement Friday night after the storm had passed.
"We are all alive," the statement read. "Thank God!"
The Bahamas began to experience the extent of Irma's wrath Friday morning. The storm's speed slowed down as the core of the hurricane passed between the Bahamas and the northern coast of Cuba.
According to The Associated Press, at least 20 people have died and thousands were left homeless as a result of Irma, the most powerful Atlantic storm in a decade, after it battered a string of Caribbean islands on Wednesday. At the time, Irma was a Category 5 hurricane with maximum sustained winds of 185 mph.
Long, the FEMA administrator, said at the press conference Friday that the agency's primary goal is to "stabilize the Virgin Islands and Puerto Rico" by restoring power, maintaining security and bringing in life-sustaining supplies.
ABC News' Daniel Peck and Max Golembo contributed to this report.