Husker Football Fan Day takes over Memorial Stadium
Everything you need to know about a day that might as well be a state holiday (in our opinion, at least!)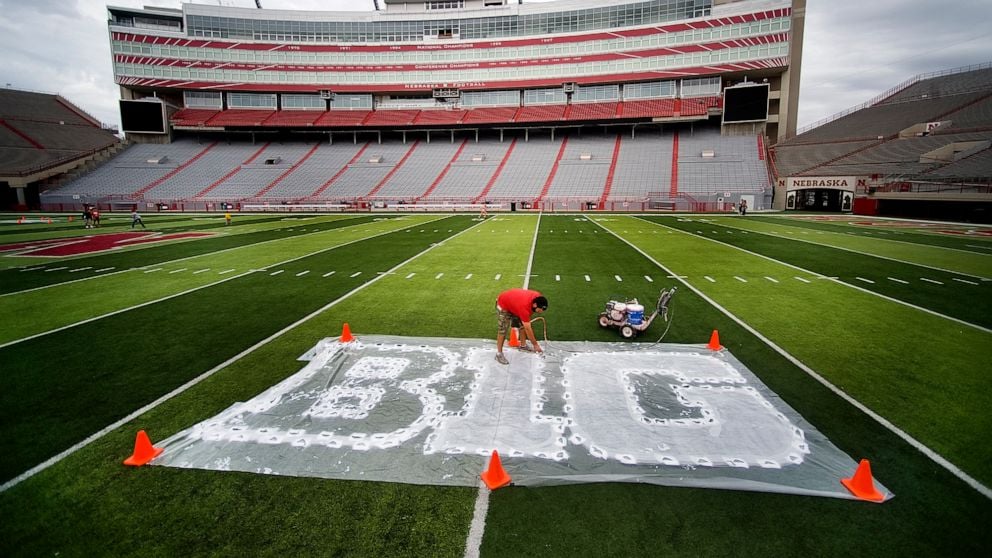 LINCOLN, Neb. (KLKN) – The "Go Big Red" chant will be echoed across Lincoln Thursday more than many other days of the year, as Husker Football Fan Day comes to Memorial Stadium.
Gates open at 5:30 pm and the event goes until 7:30 pm.
BEFORE YOU GO!
Check with the Storm Alert Team before you head out. There could be some rain or scattered storms.
Here's more you need to know to make the most of Husker Fan Day, courtesy of Huskers.com.
Parking
Parking will be available in university lots around Memorial Stadium for $5. Some lots may be unavailable because of scheduled lot maintenance.
Getting In and Out
Fan Entrances and Exits
Fans will be able to enter Memorial Stadium through Gates 3 (SW) and 24 (SE) with gates opening at 5:30 p.m.
Following the completion of Fan Day at 7:30 p.m., fans will be asked to allow players and football staff to leave the field to continue their schedule for the day as the team prepares for its first practice on Friday morning.
Fans may exit through Gates 3, 11, and 24.
Nebraska's Clear Bag Policy is not in effect for Fan Day, but all fans and carry-in items are subject to inspection.
Getting to Players & Coaches
Traffic flow for lines for players will be similar to the most recent Fan Day in 2019. All players will be seated on the field near the West Sideline, with lines running across the field from East to West.
Assistant coaches will be seated with their respective position groups.
Here is a detailed map of Fan Day.
An event staff member will be stationed near each line to indicate where fans need to line up.
As the event nears completion, event staff members at the end of long lines will do their best to advise fans on whether they are likely to make it through a line before the conclusion of Fan Day.
Coach Frost
Coach Frost's autograph line will be limited to young Husker fans entering 8th grade and younger.
Parents wishing to sign their children up for an opportunity to be part of Coach Frost's line should sign their child up for that opportunity by Monday, July 26. The sign-up form can be accessed on Huskers.com at www.huskers.com/fanday
Approximately 250 children will be randomly chosen to be part of Coach Frost's line.
Specific details regarding Coach Frost's line will be sent directly to those individuals randomly selected for the line.
Autograph Items/Husker Fan Shop
Autograph cards with a full 2021 roster and other items will be available for fans.
Fans are asked to limit their autograph requests to one item per player/coach. This policy has been in place at past Fan Days, with the goal of having fans get through as many lines as possible during the two-hour event.
A Husker Fan Shop location with the latest Adidas apparel and other merchandise will be located on the East sideline near the 50.
The Husker Fan Shop located at Pinnacle Bank Arena will also be open from Noon-6 p.m. on Thursday and the new Adidas shop on the corner of Stadium Drive and T Street will be open from 2-8 p.m. on Fan Day.
A marketing tent will be available near the middle of the field.
Restrooms/Concessions
The Osborne Athletic Complex will not be open to the public during Fan Day. Fans will have access to restrooms on the ground level, near gates 2, 15, and 24.
Water will be available for purchase on the field with two locations along the East sideline.
As the Lincoln-Lancaster County Health Depart put the COVID risk dial to yellow, some additional guidance was sent out for Fan Day.
Fans are encouraged to maintain social distancing whenever possible.
Attendees should not gather near the Memorial Stadium gates until shortly before the start of the event at 5:30 p.m.
It is recommended that unvaccinated individuals and any individuals with underlying health conditions wear a mask. Additionally, all fans are encouraged to wear a mask when in large crowds and social distancing is not possible.
Hand sanitation pumps will be available at several locations, including near public entrances at Gates 3 and 24 and at multiple locations around the Memorial Stadium field.
Fans will not be allowed to group around players and coaches before and after the event. At the conclusion of Fan Day at 7:30 p.m., please maintain distance from players and allow them to exit the field.
Members of the event staff stationed near each line will not allow fans to come around the table to take pictures with student-athletes and coaches.
Event staff members will spread out fan lines as best as possible.
In addition to COVID-19 health and safety protocols, fans are encouraged to take necessary precautions due to the heat advisory for Lincoln on Thursday. Water may be brought into the event, and will also be available to purchase during Fan Day. Fans are also encouraged to take a break and sit in the shade in the West Stadium.
As always, autographs are limited to one item per player/coach. This policy has been in place at past Fan Days, with the goal of having fans get through as many lines as possible during the two-hour event.