Central Falls teacher with unique approach to bringing learning to life, awarded Milken Educator Award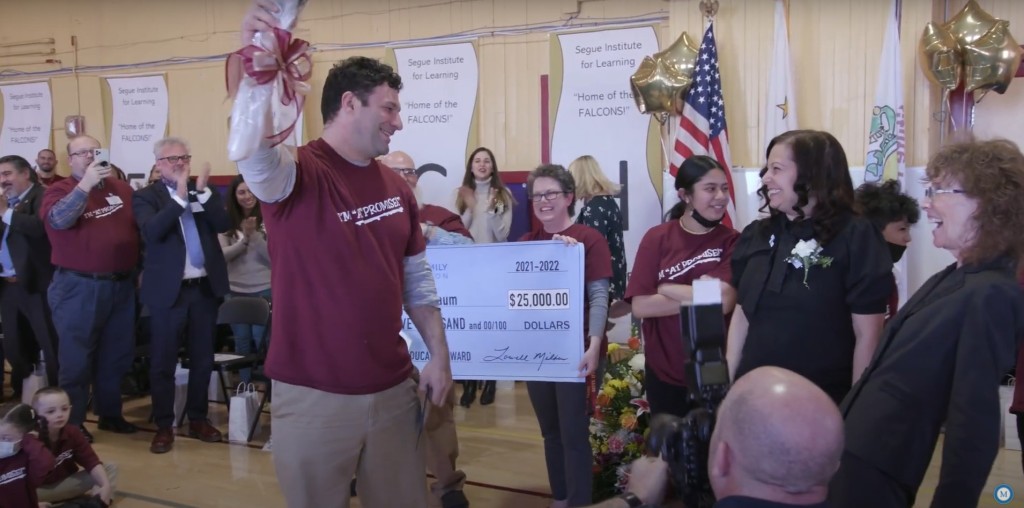 CENTRAL FALLS, R.I. (WLNE) — Sixth-grade social studies teacher John Rosenbaum was awarded $25,000 through the Milken Educator Award Tuesday while surrounded by staff, faculty, and students to celebrate.
Rosenbaum was rewarded for his unique approach to teaching by bringing learning to life through educational, creative experiences for his students.
He joins 60 educators across the nation receiving an award in 2021-2022, and one of two from Rhode Island.
Rosenbaum is also joining the national network of past winners with 2,800 recipients.
"It is a truly unique individual who can make learning come to life in the classroom, and John Rosenbaum is one of those educators," said Dr. Foley, who herself is a 1994 Milken Educator from Indiana. "His creative, hands-on approach to learning, his commitment to advocate for his students, and his collaborative approach to learning are what make him a Milken Educator Award recipient."
"The Segue Institute for Learning school community is fortunate to have John Rosenbaum educating and inspiring students with creative and engaging lessons," said Gov. Dan McKee. "We are so proud John has been awarded the Milken Educator Award for his commitment and passionate service to his students, and we wish him and his students continued success."
"Outstanding teachers like John Rosenbaum ignite a passion for learning in their students and bring lessons to life," Education Commissioner Angélica Infante-Green said. "It is clear John has made a tremendous impact on his students and colleagues and I look forward to watching his passion and growth in the years ahead. His innovative practices and dedication will certainly inspire students and help them leap ahead in academic achievement."