East Greenwich mother, son are 'lighting Rhode Island red' to raise awareness for dyslexia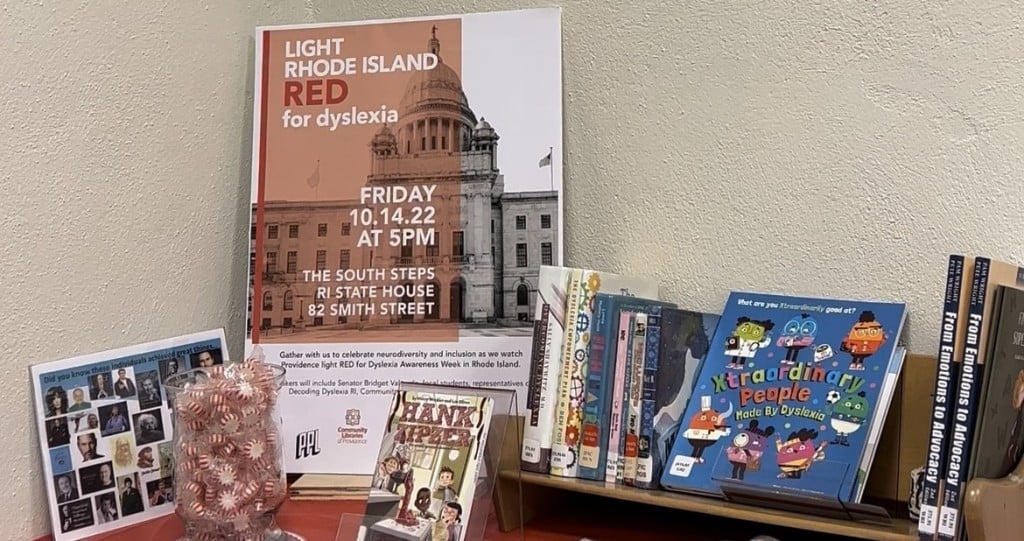 EAST GREENWICH, R.I. (WLNE) — Sarah Goldman and her son, Parker Goldman, are "Lighting Rhode Island Red" during Dyslexia Awareness Month.
The mother and son are East Greenwich residents who started the campaign in the state last year.
Parker is a student at the Hamilton School at Wheeler in Providence, a school for students with dyslexia and other learning deficiencies.
Rhode Island will join the international campaign next week by lighting Providence buildings like the Rhode Island State House, Rhode Island School of Design, and The Amica Mutual Pavilion, formerly known as the Dunkin' Donuts Center.
Sarah Goldman told ABC 6 News, "We're going to be lighting buildings and landmarks all over the state red, in honor of everyone in our community who is dyslexic."
"We're starting here at the East Greenwich Free Library, where we have a beautiful setup of materials that are all available to you at your local library if you or someone new to the diagnosis, or if you're a parent with a dyslexic child. This is a wonderful place to start," Sarah added.
Sarah published an article for a local paper where she wrote that "dyslexia is the most common learning difference in the world. Upwards of 20 percent of school children are dyslexia. So, the likelihood that you know someone who is dyslexic or someone who has a dyslexic child — is very high."
"Unfortunately, it's a difficult and often isolating journey for a child to get from a diagnosis to the corner office or seven-figure movie deal. As a community, the best way we can support these kids is by acknowledging dyslexia as a learning difference and educating ourselves and our families. This is why Dyslexia Awareness Month is so important," Sarah wrote.
When Sarah first visited the library, Diane Hogan, head of reference and digital services at the East Greenwich Free Library, purchased a reader pen.
Parker demonstrated the use of reader pen technology for ABC 6 Wednesday. When you scroll over text, the pen will speak the words copied onto the pen.
Sarah added that having these pens more accessible to students is crucial because it gives a certain level of independence to the children.
When Parker was asked why it's important to light Rhode Island red, he said, "It shows that you're not alone in your struggles, and that there are other people out there that are going through the same things that you are."
Sarah and Parker, as well as students and elected officials, will hold a "Light Rhode Island Red" event at the State House Oct. 14.
For more information about the campaign, you can visit their Facebook or Instagram.