Massachusetts State Police rescue stranded hikers in overnight snowstorm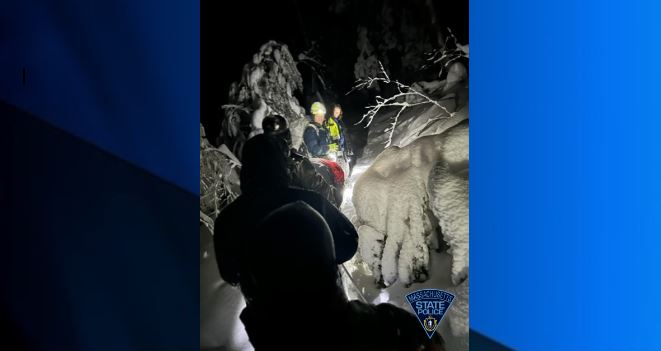 MOUNT WASHINGTON, Mass. (WLNE) — Massachusetts State Police said they rescued two stranded hikers in the Mount Washington State Forest during an overnight snowstorm.
Police said the hours long rescue began just before 8:00 p.m. on Tuesday when a 911 call from one of the hikers detailed their situation.
The hiker said him and his friend were hiking on the Alander Trail in the state forest near the New York and Connecticut state lines when the winter weather began to worsen.
He said the snow was covering the trail markers and had filled in their tracks so they couldn't retrace their steps back down the mountain.
Officials said they were heading to a cabin at the peak of the mountain and were roughly two miles into the woods.
Police said they told the hikers to stay put and a team of emergency responders was dispatched to the state park.
Responders were met with many challenges as they neared the forest. They said the access road between a command post and the forest entrance needed to be plowed for their snowmobiles.
First responders needed help from several other departments as power lines were also downed on the access road.
Police said National Grid employees had to cut the power to the downed lines so the road to the trail entrances could be cleared.
The six-person search party consisting of State Troopers, Smithfield firefighters and a Department of Conservation and Recreation Ranger met even more challenges when they reached the trailhead.
Members of the search party said the snow was roughly two feet deep and the snowmobiles couldn't clear the trails.
Officials said at 12:09 a.m., the members of the rescue team dismounted and began the two-mile walk into the forest to the hikers' coordinates.
At 2:30 a.m. the search team located the two hikers. They said both men were suffering from fatigue and cold temperatures but were not injured.
More than two hours later, the search team and the hikers made it out of the forest and reached the DCR headquarters where the two men were taken to a nearby hospital by ambulance.