Katrina Sperl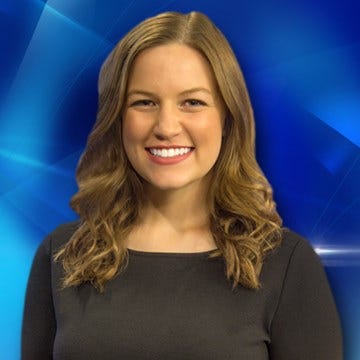 Katrina Sperl is from Stanton, Nebraska.  She recalls that, "As a child, I remember always having a microphone in my hand."  "I loved singing and being on stage."  "I also remember my favorite toy that I got from my Grandma and Grandpa, a karaoke machine."  "The amount of solo's I sang as a child and up into high school are endless."
Katrina's interest in broadcasting started in radio when she interned for two summers at 94 Rock in Norfolk, NE.  She also interned at B103 in Nebraska City.  The more journalism and broadcasting classes she took, the more she realized that she wanted to change her route from radio to television, so she took and internship at Channel 8 KLKN-TV. Being a William H. Thompson scholar was a big part of her college experience. "The faculty, staff and students apart of the learning community as well as the Journalism College was truly my home away from home", Katrina remembers.
Katrina became the weekend anchor for the Channel 8 Eyewitness News in June of 2018.  She also enjoys reporting during the week.  "Being able to do something different each day is something I love most about being a journalist", she continues, "Creating relationships and connections while interviewing is key.  I learn something new about someone or something almost every day."  Katrina became a news anchor for Channel 8 Eyewitness News 5AM, 6AM and Midday in May of 2020.
In her spare time, she enjoys making Pinterest-inspired crafts and making personalized gifts for family and friends. She also loves being outdoors. "Fishing is one of my favorite outdoor hobbies along with gardening, attending farmers markets, and going on picnics", she says.   She also enjoys spending time with her family and friends and considers herself a travel enthusiast, "… I enjoy going to new places and seeing things I haven't seen before", she adds.
ksperl@klkntv.com