Lincoln child care center struggling to hire staff; causes lengthy wait-list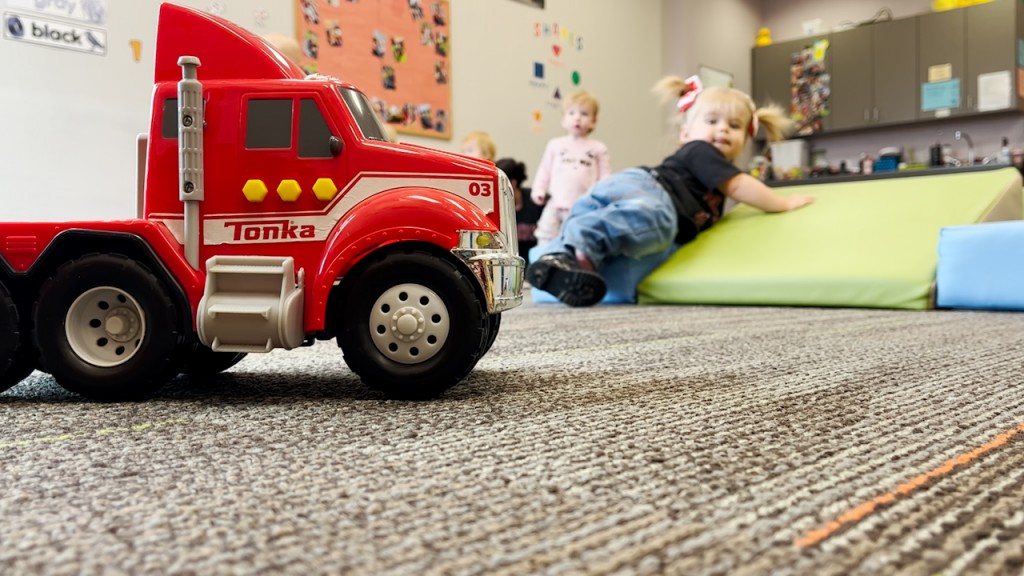 LINCOLN, Neb. (KLKN) – They're calling it a "Child Care Crisis."  Businesses across the country are struggling to hire employees and that's exactly what we're seeing in Lincoln.
Bubbles & Blocks Child Development Center's in Lincoln are struggling to hire employees. They say since the end of summer, they're having a hard time keeping up.
"I'm in classrooms a lot of days, my wife, both my parents who are retired. My mom lives in Missouri, she drives up and stays a couple of days with us sometimes, whenever people need days off, and works as well," Cory Quimby, co-owner of Bubbles & Blocks said. "It's all hands of the deck right now."
Quimby says the staff is worn out and working extra hours to make sure every classroom is taken care of. They're down about 25% of their help than in other years.
Bubbles & Blocks Development Center's are actually mandated by the state – based on how many kids they have, they have to keep a certain amount of staff members- which makes this shortage even more tricky.
"Unless we're aggressively looking for staff, we get no applications," Quimby said. "We have been handing out flyers on campuses here in town, we advertise on a couple of different radio stations."
And a lack of staff has now created a wait for families.
Bubbles & Blocks now has a waitlist at all three of their locations in Lincoln, but it's not necessarily because they're full.
"We have openings at all three locations but you can't in good conscious sign up a new kid when your teachers are working 50 hours a week. They're getting burned out and that one more kid's going to make them stay a couple of extra hours each day," Quimby said. "So if we could just hire, we could fill those spots and help families out."
If you get added to their waiting list right now, Bubbles & Blocks says they could get your child in the daycare around August of 2022.
"Because if no kids have left, and we hire no new people, that's when we lose a bunch of Pre-K kids going off to Kindergarten. So it does create an influx of openings," Quimby said. "But you would want to be calling now trying to get that spot for 2022."
Federal grants were even given out recently that the center will be able to benefit from. They say it will help moving forward with hiring and advertising, but still will not solve all of their problems.
Unfortunately, staffing shortages are affecting many child care centers.
"Some daycare centers, child care centers, here in town, I have actually heard have shut down an entire classroom because they just didn't have the staff for it."
At the beginning of the month, Bubbles & Blocks had to increase their rates because every current staff member got a raise. If you're looking for a job, you can apply for their website: www.bubblesandblockscdc.com.