Lincoln family writes book about shelter dog to raise money for Capital Humane Society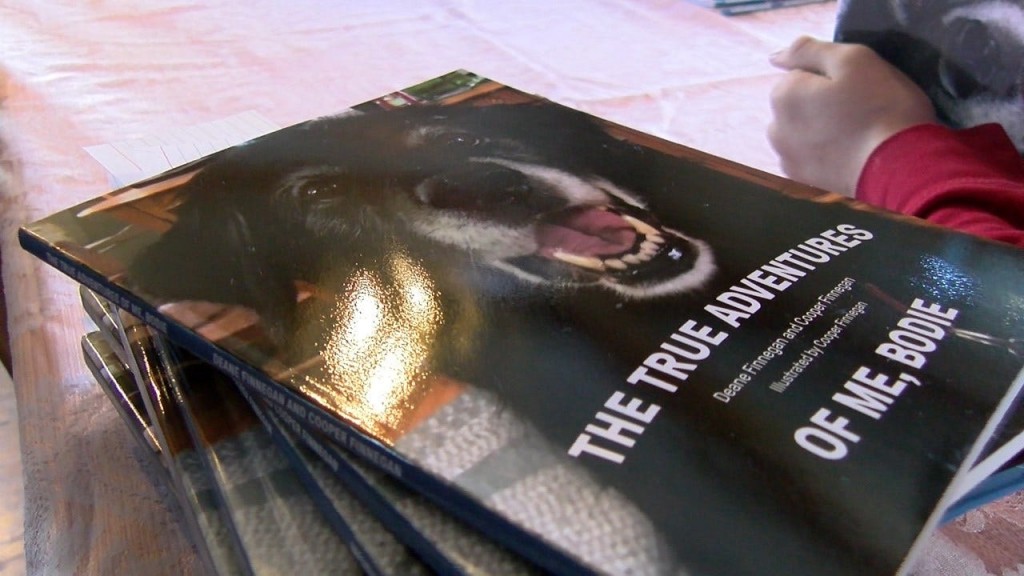 "All the sudden I heard Gerry yell drop that possum right now Bodie!" Cooper Finnegan said reading from the book he wrote.
Almost a year after the passing of the Finnegan family's beloved dog Bodie, then 12–year–old Cooper came up with the idea to capture the mutt's antics in a book.
The True Adventures of Me, Bodie highlights the unpredictable nature of the dog who was not the dog the family planned on adopting.
Ten years ago Bob Downey, the director of the Capitol Humane Society called the family saying he had a golden retriever puppy who wouldn't last long, so they rushed down to the adoption center.
"He brought in this black and white dog that jumped on a row of chairs and walked around the chairs," Deane Finnegan, who co-authored The Adventures of Me, Bodie with her grandson Cooper, said.
That dog was Bodie.
The 90–pound border collie, black lab mix was skinny after being a stray for eight months and Finnegan knew the sickly looking pup would have a hard time finding a home.
"We knew no one was going to take this dog so we took him," Finnegan said.
The family soon discovered Bodie had a knack for digging food out of the trash, opening the oven, and finding trouble wherever he went.
Despite the chaos he caused, the mutt grew on the family and Finnegan's grandson Cooper fell in love with the dog.
After his passing in 2017 Cooper approached Finnegan about writing a book about Bodie.
Written from the dog's perspective the book shares everything from his frustration with food to his harrowing tale of catching a possum.
"I grabbed the possum's tale with my teeth and started to drag him to the other side of the backyard," Cooper said reading as Bodie in The True Adventures of Me, Bodie.
Completed just two months ago, the book took nearly a year to complete with the Scott Middle Schooler drawing all the pictures.
Now 13, Cooper's book has sold over 200 copies with all the proceeds benefiting the Capitol Humane Society.
"He was just a great dog and I feel like most shelter dogs in general are just happy to find a home they can stay in," Cooper said.
The eighth grader hopes the book inspires other families to adopt older shelter dogs because you might end up with a dog who takes you on the greatest adventure of your life.
If you are interested in buying the book you can email Deane Finnegan at bodiebook1@gmail.com.
Cooper and Deane will also be hosting a book signing at the Pieloch Pet Adoption Center near 70th and Highway 2 on Sunday, February 3 from 2-4 p.m.