Lincoln man arrested after pawning stolen rings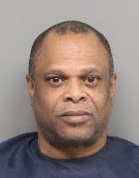 A Lincoln man was arrested Saturday after pawning multiple stolen rings.
Police say 53-year-old Logan Johnson broken into a 55-year-old woman's vehicle on January 2nd while she was parked at a gym in downtown Lincoln.
Johnson stole bags from the vehicle, one of which contained four rings of sentimental value to the victim, and were worth over $15,000.
Hours later, police located the stolen rings at four different pawn shops across Lincoln.
Johnson was seen on surveillance video at each pawn shop with another person who was making the transactions, as Johnson is on a 'no-pawn' list. Police positively identified the victim as the owner of the rings after reviewing receipts and photos.
Johnson was arrested Saturday for theft by receiving for $5,000 or more, a class II felony.