Mead man proposes to longtime girlfriend using corn stalk bales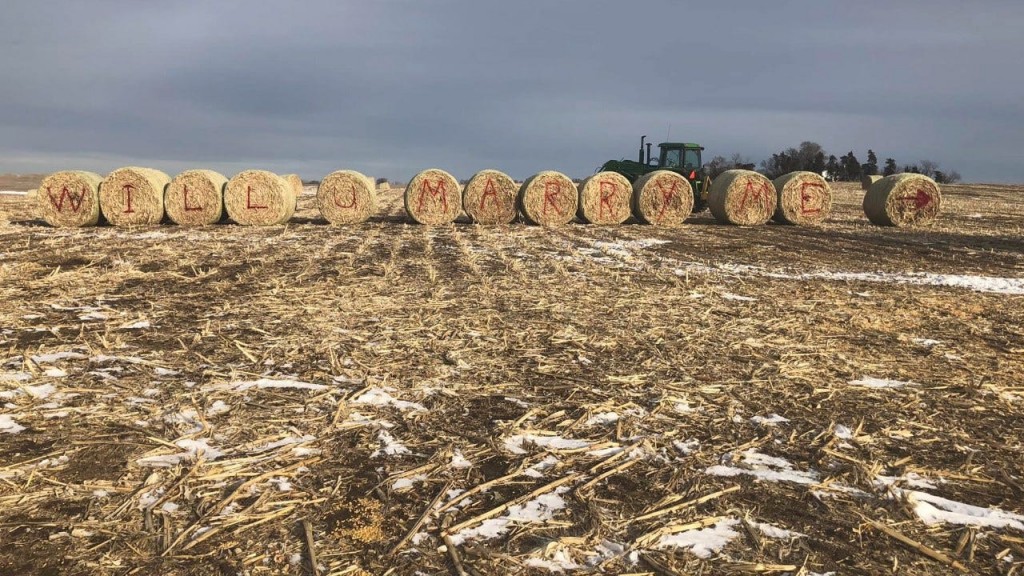 (Photos Courtesy: Sam Steward)
Sam Steward was wrapping Christmas presents when her boyfriend, Matthew Rozic, asked her to bring a drink and some Kleenex out to him as he moved corn stalk bales in a field outside their Mead home.
So she had no idea what awaited, as she got in a pickup truck and drove out to where he was working.
When she got to the spot where he was supposed to be waiting, she saw 13 bales he had strategically placed in a row. Then, he told her to drive to the other side.
Spray painted in big red letters was the question: "Will U Marry Me" with a final bale that had an arrow pointing to the right.
"When I got in the right spot where I could see the phrase, I got out and started to walk towards him," Steward said. "He was standing to the right of the bale with the arrow."
He popped the question, she said yes.
"And the rest is history," she said.
Rozic said he didn't want to add a question mark on one of the bale's because he didn't want to give Sam the option to say no. Their family jokes that's exactly what she was trying to do, because when he told her to drive to other side of the bales she initially went the wrong way.
The answer would have been yes no matter what, she insists.
The couple began dating after meeting through a college internship. They've been together more than seven years, and hope to make it a life time.