Lincoln Pius X boys basketball claims HAC title
The Thunderbolts earned a 62-44 win on Saturday.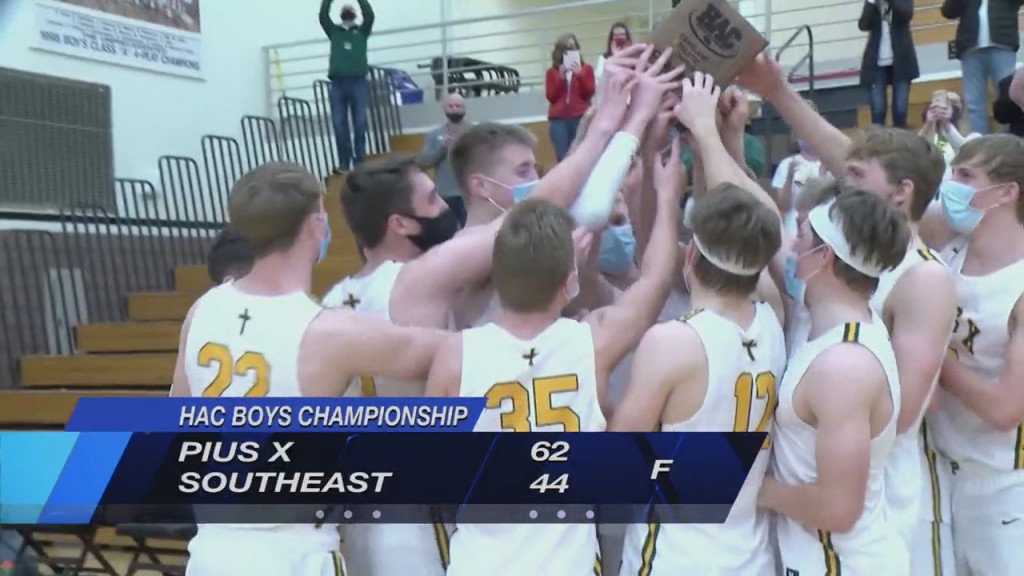 LINCOLN, Neb. (KLKN) – It was a great day to be a Thunderbolt on Saturday. The girls and boys basketball team earned a title in the Heartland Athletic Conference championship.
Charlie Hoiberg led the Thunderbolts with 18 points. Pius X secured a 62-44 win over Lincoln Southeast, and claimed the title for a third straight year.
Watch highlights and reaction above.
Other boys basketball scores
Adams Central 68, O'Neill 46
Alliance 69, Bayard 38
Aquinas Catholic 57, Guardian Angels Central Catholic 54
Auburn 53, Ashland-Greenwood 33
Beatrice 36, Kearney Catholic 33
Bloomfield 35, Elgin Public/Pope John 31
Bridgeport 66, Burns, WY 45
Central City 81, Twin River 49
Centura 34, Sandy Creek 26
David City 46, East Butler 40
Elkhorn Valley 50, Randolph 35
Fairbury 73, Humboldt-Table Rock-Steinauer 53
Freeman 59, Southern 34
Gibbon 65, Minden 55
Heartland 50, Centennial 48
Hemingford 60, Lusk Niobrara County, WY 38
Hershey 48, Broken Bow 36
Hi-Line 73, Southwest 56
Humphrey/Lindsay Holy Family 73, Stanton 49
Maxwell 50, Arapahoe 34
Milford 64, Falls City 53
Norris 53, Elkhorn 36
Oakland-Craig 49, Elmwood-Murdock 29
Omaha Concordia 73, Lincoln Lutheran 49
Omaha Roncalli Catholic 70, Elkhorn North 62
Palmer 57, Twin Loup 45
Sidney 53, Holdrege 47
St. Paul 63, Boone Central 45
Sumner-Eddyville-Miller 54, Sandhills Valley 48
Tri County 58, Johnson County Central 38
Wakefield 70, Siouxland Community Christian, IA 50
Waverly 57, Omaha Gross Catholic 36
West Point-Beemer 63, Fort Calhoun 57
Wilber-Clatonia 48, Syracuse 32
Yutan 63, Wahoo 59