Lincoln Pius X defeats Fremont 79-67 in HAC title game
The Thunderbolts claimed the HAC title on Saturday.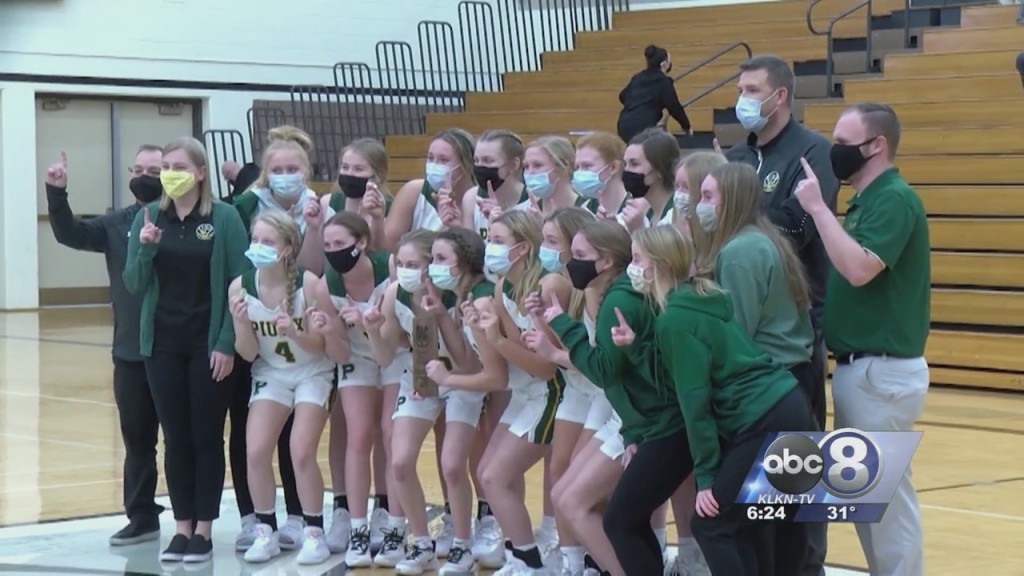 LINCOLN, Neb. (KLKN) – No. 1 Lincoln Pius X grabbed a 79-67 win over No. 2 Fremont on Saturday, and claimed the Heartland Athletic Conference tournament title.
Senior Alexis Markowski led the Thunderbolts with 44 points and 22 rebounds, a single game record in school history. She scored 20 points in the second quarter to help bring Pius back from a seven-point deficit.
Watch the highlights and hear reaction in the video above.
Other Girls basketball scores
Auburn 47, Ashland-Greenwood 30
Bayard 60, Alliance 31
Blair 66, Bennington 43
Bridgeport 78, Burns, WY 51
Broken Bow 57, Hershey 40
Centennial 58, Heartland 18
Central City 62, Twin River 41
Centura 39, Sandy Creek 31
Cody-Kilgore 72, Hyannis 19
David City 56, East Butler 34
Douglas County West 65, Conestoga 43
Elgin Public/Pope John 50, Bloomfield 48
Elkhorn North 64, Omaha Roncalli Catholic 38
Elkhorn Valley 38, Randolph 24
Fairbury 48, Humboldt-Table Rock-Steinauer 25
Freeman 32, Southern 25
Guardian Angels Central Catholic 55, Aquinas Catholic 11
Holdrege 36, Sidney 34
Humphrey/Lindsay Holy Family 69, Stanton 48
Johnson County Central 39, Tri County 36
Kearney Catholic 56, Minden 44
Lincoln East 43, Gretna 35
Lincoln Lutheran 49, Omaha Concordia 22
Maxwell 47, Arapahoe 39
McCool Junction 35, High Plains Community 32
Milford 50, Falls City 17
Niobrara County (Lusk), WY 44, Hemingford 37
Norris 58, Elkhorn 34
North Bend Central 63, Raymond Central 23
Northwest 65, Gothenburg 47
O'Neill 57, Adams Central 38
Oakland-Craig 55, Elmwood-Murdock 52
Ogallala 44, Perkins County 29
Omaha Duchesne Academy 44, Platteview 39
Omaha Skutt Catholic 58, Sioux City West, IA 27
Overton 47, Anselmo-Merna 38
Southwest 48, Hi-Line 43
St. Paul 42, Boone Central 32
Syracuse 24, Wilber-Clatonia 16
Twin Loup 50, Palmer 28
Wakefield 77, Siouxland Community Christian, IA 34
Waverly 35, Omaha Gross Catholic 33
West Point-Beemer 63, Fort Calhoun 21