Family, police looking for missing woman last seen in Lincoln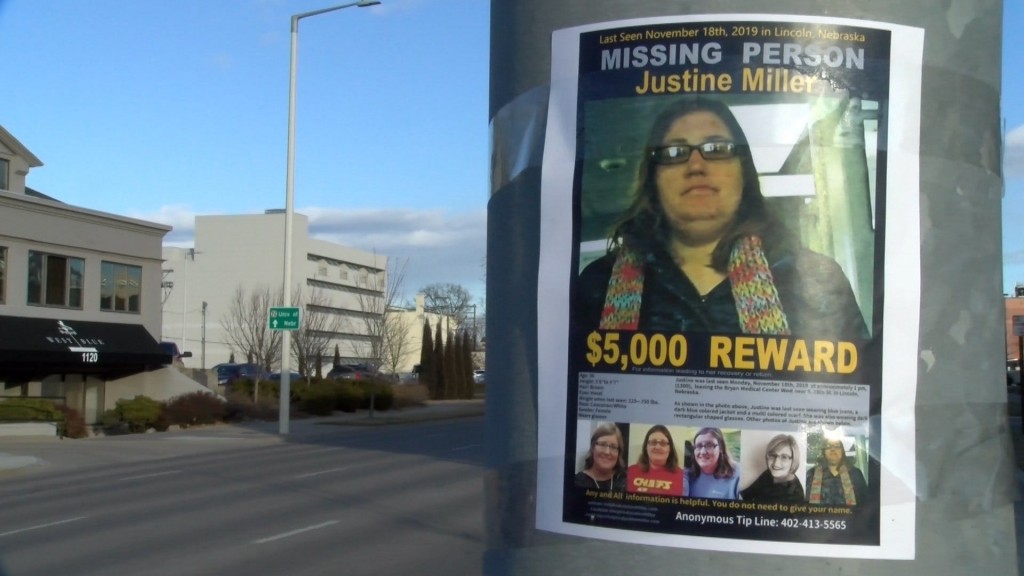 Lincoln police are looking for 36-year-old Justine Miller of Storm Lake, Iowa.
Missing person fliers have filled the streets of Lincoln, the last place Justine was seen on November 18th.
"The love and support of my family and friends and my faith, that's the only way a person can handle it but it's been the most pain I've ever felt in my life, it really has," Justine's Mom, Laurie Miller said.
Investigators have interviewed those at the People's City Mission, a place Pastor Tom says Justine was staying from November 13th through the 19th.
"She basically stayed at night, ate a few meals usually breakfast and dinner, and would leave for most of the day and then on the 19th she just left and we haven't seen her since," People's City Mission CEO, Pastor Tom said.
Pastor Tom added that there is a wide range of people and a wide range of reasons why they come to the shelter, nothing stood out in terms of Justine's behavior.
"I assume she was here and she took off to wherever she was going and wherever that is, hopefully they will find out where she is at," Pastor Tom said.
Justine's mother describes her daughter as very family oriented. Although, she fears that Justine may be at risk because she is vulnerable and struggles with anxiety.
The family says Justine had surgery at Bryan Health and their closest tip was from private investigators.
"She had walked out of the Bryan hospital and the search and rescue dogs kind of stopped at the parking lot so they think maybe someone picked her up and that she may be in danger," Miller said.
Pastor Tom says if Justine is in another shelter somewhere, she might be a little harder to find. The Miller family has a reward of $5,000. They hope someone can help figure out what happened so Justine can come back home safely.
The Miller family is begging the public to come forward if they have any information about Justine's whereabouts.
There is an anonymous tip line available for those to call in: 402-413-5565