VIDEO: Protestors descend on U.S. Capitol, here's what happened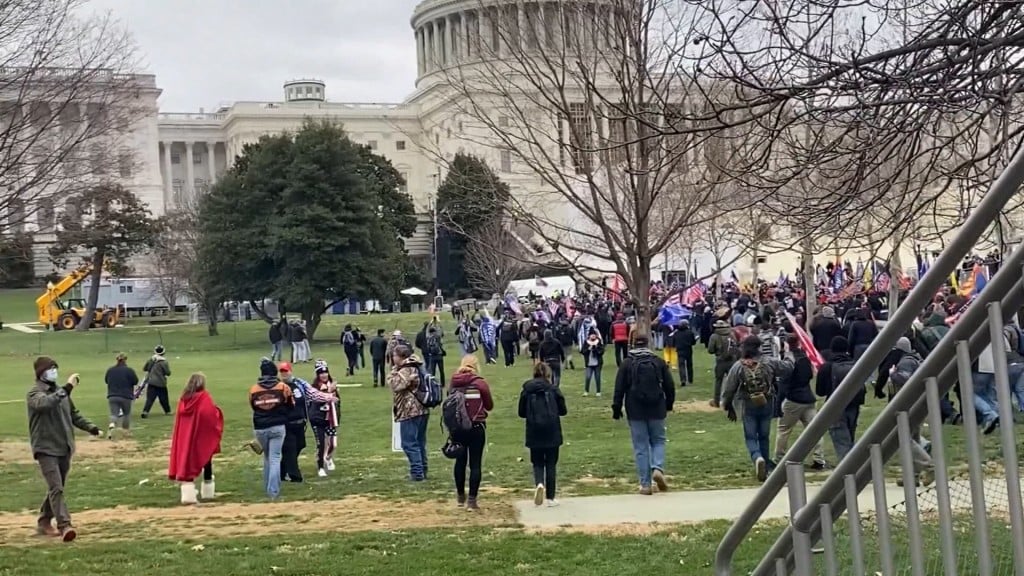 WARNING: All video is raw. It may contain profanity.
WASHINGTON — Protestors descended upon the U.S. Capitol Building this afternoon, following lawmakers' certification of Joe Biden's electoral win. We'll keep you updated as the events unfold.
---
3:04 p.m.
Sources tell ABC News that a woman has been shot inside of the US Capitol and has been seriously injured. It's unclear what led to the shooting or if law enforcement was involved.
---
2:36 p.m.
President-elect Joe Biden is expected to address the nation within the hour.
Originally, this speech was planned to address the U.S. economy, but will likely touch on the current riot outside the Capitol.
---
2:26 p.m.
According to local police, the Senate chamber has been secured. Officers are currently in the process of pushing protesters down from the 3rd floor and 2nd floor to the rotunda, at the center of the building.
I am asking for everyone at the U.S. Capitol to remain peaceful. No violence! Remember, WE are the Party of Law & Order – respect the Law and our great men and women in Blue. Thank you!

— Donald J. Trump (@realDonaldTrump) January 6, 2021
---
2:03 p.m.
Agents with the Secret Service and Federal Protective Services are responding to the U.S. Capitol to assist U.S. Capitol Police.
---
1:48 p.m.
ABC is reporting an armed standoff at the front entrance of the House. Police officers have their guns drawn at someone who is allegedly trying to reach the front doors.
---
1:47 p.m.
Lawmakers are being evacuated. Protesters are reportedly banging on the doors.
Please support our Capitol Police and Law Enforcement. They are truly on the side of our Country. Stay peaceful!

— Donald J. Trump (@realDonaldTrump) January 6, 2021
---
1:37 p.m.
According to an on scene ABC reporter, officers have warned lawmakers that they may need to duck under their chairs and to "be prepared" to relocate to their cloakrooms.
"We now have individuals that have breached the Capitol building. they are in the Rotunda area."
---
Just after 1 p.m., pro-Trump supporters pushed their way through metal barriers along the perimeter of the U.S. Capitol.
A struggle ensued between multiple protestors and officers dressed in full riot gear.
Flashbangs could be heard near the Capitol steps as smoke filled the air. In some instances, officers could be seen deploying pepper spray.