Liz Whalley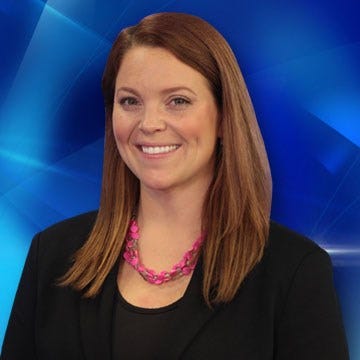 Liz calls Columbus, Ohio home.  In second grade, she learned about clouds and loved to roll "cumulonimbus" off of her tongue.  On top of that, her uncle bought her the movie "Twister" and immediately became hooked on severe weather and the want to be a storm chaser.  "I love hurricanes and lightning", (but) from a meteorological view."   says Liz, "It's amazing how something so beautiful can also kill you", she adds.
Her love of weather and the want to tell compelling weather stories, Liz enrolled at Valparaiso University.  In school, she took a class taught by ABC Good Morning America's Ginger Zee, a Valparaiso alum, who instilled in her a desire to inspire young girls to pursue careers in science.  After she graduated with a degree in meteorology, she took a job as the weekend meteorologist for KSFY-TV in Sioux Falls, South Dakota.
Before joining Channel 8 Eyewitness in 2018, Liz was a freelance meteorologist for KDLT-TV in Sioux Falls, South Dakota.  You can watch Liz on weekend evenings.
In her spare time, she likes to try new food, cook, swim laps, and spend time with her two Huskies, Kona, and Ammo.  She is a coffee addict and loves finding local coffee shops.  She is an OSU Buckeye fan but promises to root for the Huskers unless they are playing Ohio State. 

ewhalley@klkntv.com
Twitter   @LizWhalleyKLKN
Facebook  www.facebook.com/LizWhalleyWX