Luke Dorris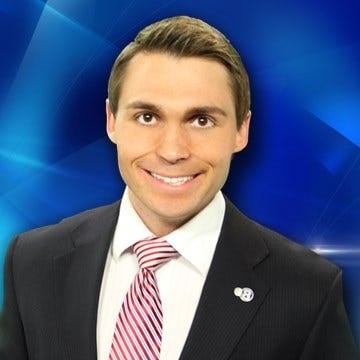 Luke has always been drawn to the weather. He grew up in Edwardsville, Illinois across the Mississippi River from St. Louis. In 1993, he remembers surveying the damage caused by river flooding when his mom took the family to see how the Mississippi invaded the river town of Alton, Illinois.
As Luke grew up, his love for weather didn't change, but he initially chose a to pursue a career in engineering. That all changed when a building where he worked, was destroyed by a storm, while he was inside. Luke then decided to start his quest to understand the atmosphere and enrolled in the Meteorology program at the University of Oklahoma, where he graduated with a bachelor's degree.
Before coming to Channel 8 KLKN-TV, Luke worked for "OU Nightly", the university's news program and completed an internship at News 9 in Oklahoma City. Explaining another reason why he chose his profession Luke says, "I love to teach, so not only do I get to study the weather everyday, I also get to explain why certain weather is happening". Luke started with Channel 8 Eyewitness News as the morning and midday meteorologist, before becoming Chief Meteorologist for Channel 8 KLKN-TV.
In April of 2014, Chief Meteorologist Luke Dorris was awarded the AMS Certified Broadcast Meteorologist designation. The Certified Broadcast Meteorologist is the highest certification offered by the American Meteorological Society. To get one, you must have a Bachelor of Science degree in meteorology, pass a rigorous written exam, and have your on-air forecasts reviewed by fellow meteorologists around the country. Luke is one of about 600 in the country to earn this distinction. When asked what this means to viewers, Luke relied,"It tells the viewer I have met the high expectations of fellow meteorologists in not only my weather knowledge, but also in my ability to communicate how it will impact their lives." Luke added, "I am also held accountable to staying up on the latest developments in the science meteorology, because the program requires continuing education."
?
In his spare time, the self admitted "night owl", enjoys working out, fishing, being on a lake, watching movies and, believe it or not, storm chasing. You can see meteorologist Luke Dorris' weather forecasts weekdays during the Channel 8 Eyewitness News 5, 6 and 10 programs.