Magic Moments: Lincoln man battling cancer gets unlikely surprise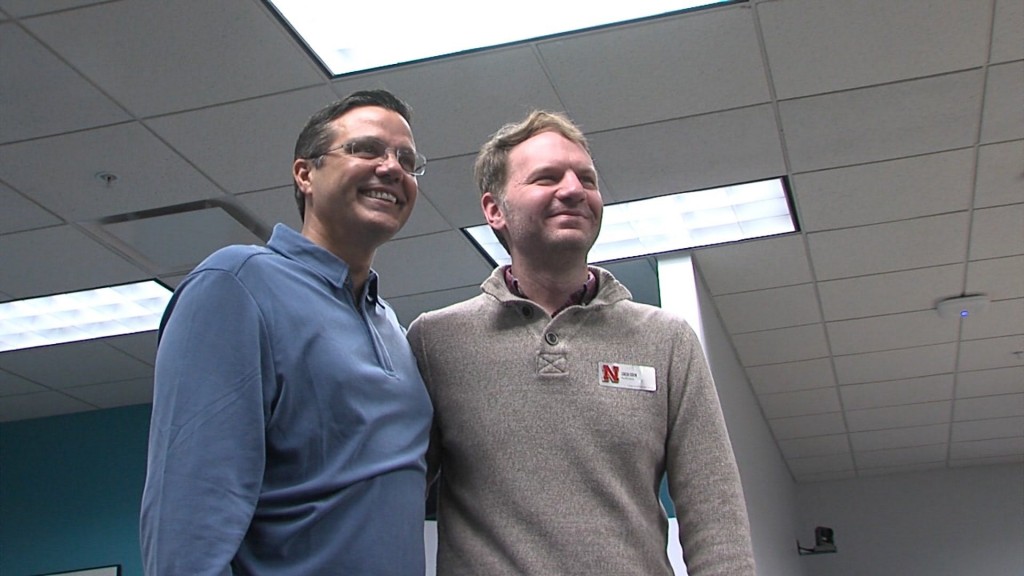 Zachary Eden spent weeks drinking water trying to feel better. He had headaches and felt nauseous for some time. He thought nothing off it.
Until he went to see a doctor.
"My partner took me into the E.R. and that is when I got the news. We did find 3 different growths," said Eden. "It is kind of a blur. I went in not expecting what I found out."
That's when everything changed for Eden and his family. Back in July he began his journey to recovery. After surgery, treatment and many doctor checkups he received good news.
"Things are progressing in terms of the treatment. Things are going well. I've got good news so just stay positive and keep going," said Eden.
The outlook Eden has had through it all? Positivity, hope and fortitude. His mom, Teresa Eden, is nothing but supportive and proud of her son.
"He was the positive one, I just followed his lead. He was the courageous kid. I admire him so much and I told him I am so proud of you," said Teresa.
Zach rejoined the staff at Love Library on the University of Nebraska-Lincoln's campus in August where he has worked for three years.
Something he says helped him in his road to remission. Having a sense of "return to normalcy" through it all. Being able to sit in his office recliner and continue from where he left off back in June.
Wednesday afternoon was more than Zach could ever imagined.
"Thank you. Thank you all very much," said Zach with a huge smile and tickle in his throat.
Former Nebraska Men's Basketball head coach Tim Miles surprised Zach moments before he began to open his gifts.
A special moment for Zach and a story that goes beyond today.
Back when Miles was released from his head coaching role at UNL, in an act of thanks, Zach presented coach Miles a six-pack of beer. Setting it on his front porch. A simple yet generous gift.
Now Miles returning the favor himself. Zach has been a long time Husker Hoops fan and an even bigger fan of Miles, who said they would keep in touch down the line.
Zach was nominated to Union Bank and Trusts Magic Moments by his two 3rd grade elementary teachers Judi Wittwer and Julie Metter.
"Zach is easy to talk with, outgoing and engaging. It is just exciting and it warms our hearts," said Wittwer.
The surprise of Miles was "enough for the entire day" Zach said. But that wasn't where things stopped.
An entire table of boxes and gifts included a trip to Kansas City. A hotel stay and a KC art museum voucher. Art materials, outdoor wear and Lincoln shop gift cards.
A love library room was packed with staff, faculty, friends and family of Zach's. All there to support and celebrate with him as part of this year's Magic Moments.