Marco makes landfall, Laura could become powerful hurricane as it moves into Gulf
A tropical storm warning has been issued for the Florida Keys.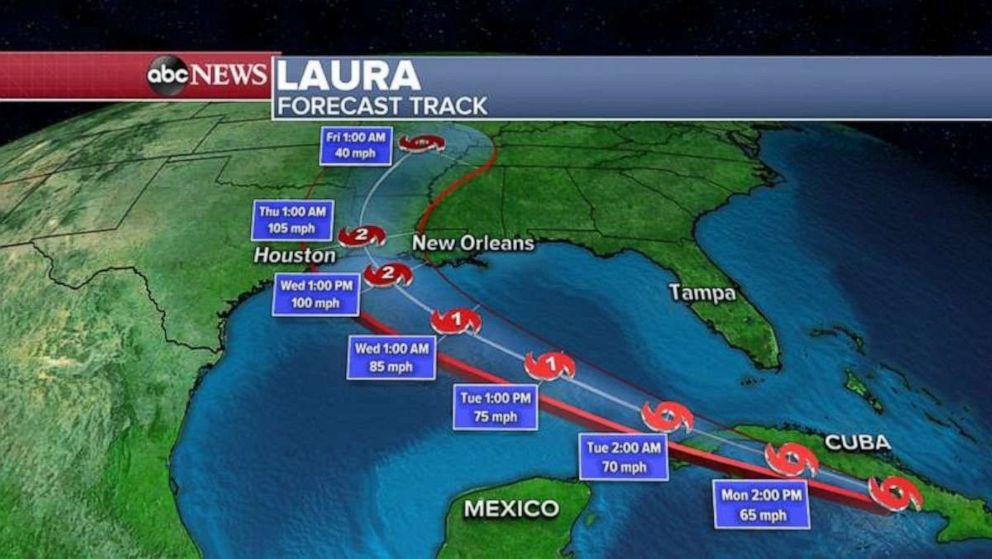 (ABC News) – The first of two tropical storms heading toward Louisiana has made landfall.
Marco made landfall near the mouth of the Mississippi River Monday evening, around 7 p.m. ET, with maximum sustained winds of 40 mph, according to the National Hurricane Center.
Tropical storm-level winds are expected to subside as Marco moves along the coast of Louisiana over the course of the evening Monday, though heavy rain is forecast along portions of the north-central Gulf Coast through the night.
Hurricane warnings were discontinued for the Louisiana coast as the storm continued to weaken.
A tornado watch remains in effect for portions of the Florida Panhandle and southwestern Georgia until midnight.
Flash flood watches also remain in effect from Mobile, Alabama, to the central Florida Panhandle.
Laura, a different storm, is just 48 hours behind Marco.
The tropical storm continued to batter portions of Cuba Monday with heavy rain and areas of flash flooding. It strengthened slightly from Monday afternoon, with maximum sustained winds of 65 mph.
A tropical storm warning has been issued for the Florida Keys as Laura passes through the South Monday night.
Once Laura emerges over the Gulf of Mexico Monday night, environmental conditions will become favorable for possible rapid intensification. Laura could become a Category 2 hurricane on Tuesday and into Wednesday, with winds of over 100 mph.
As of now, landfall looks like it will be somewhere between Southeast Texas and southwest Louisiana late Wednesday night.
Threats with Laura include damaging winds, deadly storm surge and flooding rain.
A hurricane watch is in effect from Port Bolivar in Texas to west of Morgan City, Louisiana. A storm surge watch is in effect from San Luis Pass in Texas to Ocean Springs, Mississippi, including Lake Pontchartrain, near New Orleans.
ABC News' Daniel Peck contributed to this report.