Milford mother saved after going into cardiac arrest six times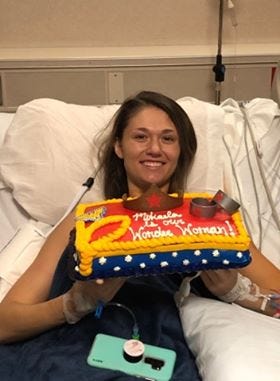 An unexpected and terrifying moment.
"At that point we had given a few rescue breathes and then I think I looked at you and said does she even have a pulse," nurse Jordan Anderson said.
A mothers worst nightmare.
"I went straight to the school and saw her on the floor having seizures," Mikaela's mother Michelle Walker said.
It's an episode that even doctors can't explain
"I think even right now there's not a solid answer as to what happened," Dr. Brandon Henley said.
24–year–old Mikaela is healthy, works out five days a week and has two kids.
On November 14th playing in a volleyball game in Milford, the unpredictable happened.
She fell to the ground and started having seizures. Her heart stopped twice.
The quick actions of three nurses and a firefighter saved Mikaela's life as they began CPR and administering shock through an AED.
She'd be transported to a Seward hospital, then Lincoln and then life-flighted to Omaha.
Her heart would stop four more times while in the hospital.
"It's so hard to just say thank you but that's all the words I can come up with. I am so grateful that they were there because if they weren't this would be a totally different outcome. They are true heroes," Mikaela Zysset said.
Those heroes now hoping to be a reminder of the importance of knowing CPR.
So, no matter where you are or what you're doing, you can help save a life.
"350,00 people have cardiac arrest outside of the hospital. Of those people who have cardiac arrest, 90% of them pass away. So, you're in the 10%. It's important that people know CPR," nurse Michelle Folkers said.