UPDATE: Texas governor confirms 20 fatalities in El Paso mass shooting, suspect identified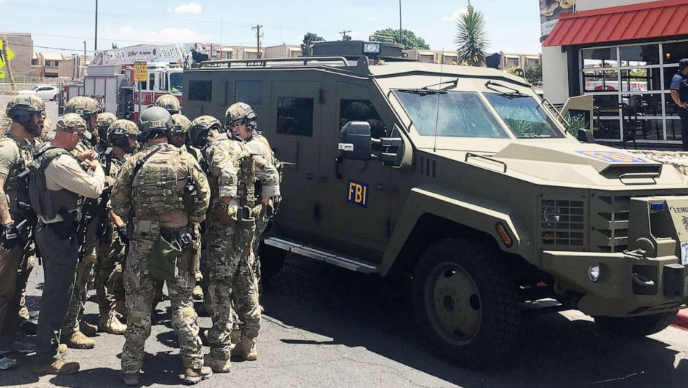 ABC News – As many as 20 people were killed and dozens more were injured, and a white male in his 20s is in custody after a mass shooting at an El Paso, Texas, Walmart on Saturday morning, officials said.
The wounded ranged in age from a 2-year-old child to an 82-year-old victim.
The suspect, identified by authorities as Patrick Crusius, 21.
He was "taken into custody without incident" and without any law enforcement officers firing their weapons, according to El Paso Police Department Sgt. Robert Gomez. The alleged shooter's motives remains unknown, Gomez said, adding that "we have ruled out multiple shooters."
Police officials said the first 911 calls came in around 10 a.m. local time.
The shooting began in the parking lot outside the Walmart, according to an eyewitness who said she heard gunshots as she drove through the parking lot with her mother.
Shopper Vanessa Saenz described the shooter as dressed in cargo pants and wearing ear protectors and said he looked like he was dancing.
Moments later, Saenz saw a woman a few feet away fall to the ground.
The eyewitness then described seeing victims near the shooter who became cornered — with nowhere to run — and then watched the gunman raise a rifle, aim it at them and start firing.
She described the man as then walking with confidence into the store, "like he was on a mission."
The majority of the victims were shot inside the Walmart, according to Gomez, which at the time contained more than 100 employees and what authorities have preliminarily estimated to be between 1,000 and 3,000 Saturday morning shoppers.
Police did not officially issue a fatality number, but law enforcement sources told ABC News that at least 18 people were killed and dozens more injured. If officially confirmed, it would make the El Paso massacre one of the top ten deadliest shootings in U.S. history.
He went on, "At this second in time, we won't rule out multiple [shooters] until we have all the facts based on the investigation. Initial reports did advise multiple suspects. At this time, we do have one person in custody. We don't believe there's anybody outstanding so …. we are starting to secure the scene."
This is a developing story. Read the latest here.