Air Force tests aircraft for management of COVID-19 patient transports
The simulation is to see how COVID–19 microparticles move throughout an air tight cabin.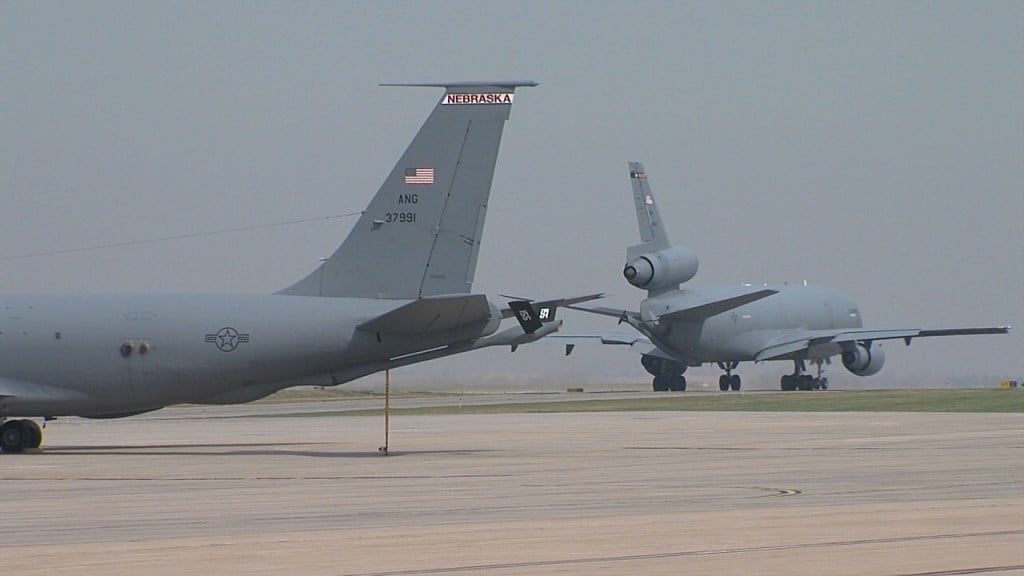 The Nebraska Air National Guard hosted members from the Air Mobility Command and scientists from the National Strategic Research Institute at the University of Nebraska for a combined effort to combat the spread of COVID–19.
"What we're doing here is we're trying to help the airforce make an informed decision about moving troops, patients, whether they be testing positive for the coronavirus or negative," said Sean Kinahan, senior Threat Scientist at the National Strategic Research Institute at the University of Nebraska.
The simulation is to see how polystyrene latex microspheres, acting as COVID–19 microparticles, move throughout an air tight cabin.
"So what we do is we release tracers throughout the plane. We have two different types, we have a fluorescent tracer which we can see in real time, it's really bright like under a black light, so we can see that in real time throughout the system, and we can also release DNA tag beads, unique DNA tags that don't exist in nature at different locations, and we can sample them and we can see if somebody was infected here, where did it get througout the plane, if they were infected from this release point with a different DNA signature, where did it get throughout the plane," said Kinahan.
The objective, if this were a real time scenario, is for the crew to not get infected by the coronavirus patients themselves.
"If we get mobilized to actually do patient transport, that's partly what this test is for is trying to figure out how we can keep the crews safe from contracting coronavirus," said Charles Taylor, the KC-10 Boom Operator.
They used a KC–10 Extender, a jet normally designed for cargo and refueling smaller jets.
"Basically there was a lot of on the fly configuration changes that we had to make in order to get the tests going where it's at," said Taylor.
The KC-10 would be a similar air transport craft for carrying patients. The capacity? 9 bedbound patients and 53 patients that are able to move, as well as the crew, and any other medical cargo.
The plan was to get the KC–10 air born long enough to simulate a short distance commercial flight.
"They'll do the flight test, do their dispersal and gather data, that will be about 3 hours, then about an hour of ground testing following that, and then as soon as the aircraft and passengers are ready to depart, we'll head back to McGuire airforce base," said Maj. Dave Sustello, Air Mobility Command's Test and Evaluation Squadron operations officer.
All constituents say the organization was a success.
"The location here was excellent. The support was absolutely outstanding, world class, the 155th air refueling wing has been the best host and we couldn't have done it without them," said Sustello.
However, the test results need to be analyzed over a couple days to see how the microspheres behaved.