Mental health among challenges facing Nebraska farmers after floods, blizzard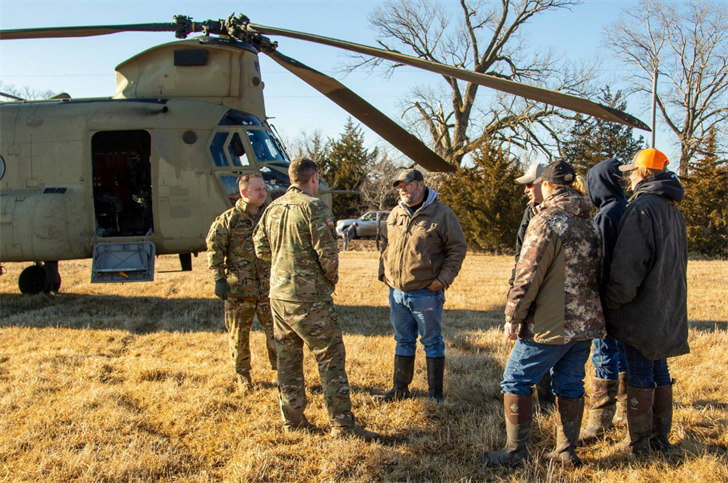 State leaders in agriculture and the environment say Nebraska farmers and livestock producers are facing a multitude of challenges as they attempt to recover from historic flooding across the state.
"It's a huge effort," Nebraska Department of Agriculture Director Steve Wellman said in a phone conference Thursday morning.
Thursday marked day nine of an extreme weather event that inundated eastern Nebraska with record flood waters, while simultaneously pummeling the panhandle with a blizzard.
Initial estimates by state officials of combined crop and livestock losses were north of $800 million.
That figures not only includes dead animals and destroyed crops, but also care that will be required for sick animals, loss of feed, removal of carcasses, and clean up efforts, Wellman said.
Some areas may not see any planting in 2019, while others will need immense cleaning before they're able to be planted, he said. And those efforts can't begin until water levels subside and debris is removed.
Wellman said it's hard to tell how such widespread destruction will impact prices and availability for the general public, with no estimate available as far as price increases.
"To put a price tag on it, I'm not sure," he said."
The biggest need for those with livestock remains hay, Wellman said. The Nebraska National Guard used a Chinook helicopter to airdrop hay to to stranded cattle in the Columbus area Wednesday.
Other needs include supplies to replace fencing wiped out by flood waters.
Wellman said there has been a tremendous response to requests for help from farmers, with about two thirds of all calls his department has been receiving being people volunteering assistance of some sort.
"Many hands are working side-by-side… to get life back to normal," he said.
Debris, wastewater, and dead animals pose environmental hazards in areas still facing flooding, Nebraska Department of Environmental Quality Director Jim Macy said.
Governor Pete Ricketts has issued several executive orders to help with the situation, including one that removes 'red tape' and allows for expedited disposal of animal carcasses, Macy said.
NDEQ has partnered with the EPA to form a mobile lab that will travel between Nebraska communities to give out water sampling kits rural residents can use to check whether their well water is safe. Operators will work with residents to treat unsafe water, Macy said.
---
The disaster has taken a toll on the mental health of many, and state officials say help is available to those who may need it.
Help is available through several organizations, including:
The Nebraska Rural Response Hotline: 1-800-464-0258
The Nebraska Family Helpline: 1-888-866-8660
The Disaster Distress Hotline: 1-800-985-5990
---
Those in need of farm assistance, who want to offer help, or have other questions can call:
Nebraska Ag Hotline: 1-800-831-0550
Nebraska Department of Environmental Quality: 1-877-253-2603
---
(Photo courtesy of the Nebraska National Guard)