Nebraska Finishes Unbeaten Against Northwestern, Maryland
Seven Huskers finished undefeated on the day as the Nebraska wrestling team earned wins over Northwestern and Maryland on Saturday.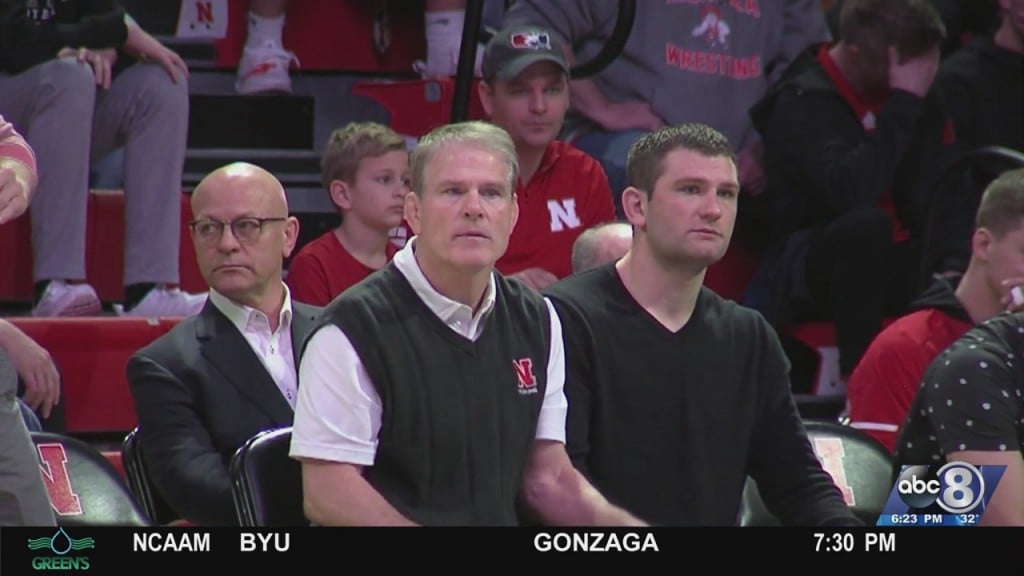 LINCOLN, Neb. (Nebraska Athletics) – Seven Huskers finished undefeated on the day as the Nebraska wrestling team earned wins over Northwestern and Maryland Saturday at the Bob Devaney Sport Center. The Huskers (3-1, 3-1 Big Ten) defeated the Wildcats (1-2, 1-2 Big Ten), 26-10, followed by the Terrapins (0-5, 0-5 Big Ten), 36-0.
Starting at 125 pounds, Liam Cronin earned a 15-5 major decision win over Northwestern's Matt Vinci to set the tone for the day. Against Maryland, Cronin earned his first pin as a Husker, defeating Zach Spence by fall in 2:19.
Alex Thomsen (133 pounds) picked up his first win of the season, defeating Maryland's Jackson Cockrell in a 6-2 decision. Thomsen finished 1-1 on the day, falling to Northwestern's Chris Cannon by major decision in his first match.
Chad Red Jr. (141 pounds) put himself back in the win column with victories over Northwestern's Colin Valdiviez and Maryland's Danny Bertoni. Red earned three takedowns, two reversals and two riding time points on his way to improving to 3-1 in varsity duals this season. He also wrestled in the extra matches, beating Northwestern's Frankie Tal-Shahar in a 3-2 decision.
At 149 pounds, Brock Hardy earned a 4-0 win over Maryland's Hunter Baxter, scoring two takedowns to record his second win of the season. The freshman fell to Northwestern's Yahya Thomas by 4-1 decision in his first match of the day.
With a 5-1 decision over Maryland's Michael Doetsch, Caleb Licking picked up his first win of the season and his second career dual win. The senior earned two back points, a takedown and a riding time point to take the match. In his first match against Northwestern, Licking took Maxx Mayfield to extra time, but ultimately fell 6-4 in sudden victory.
Peyton Robb (165 pounds) earned his first wins of the season, starting with an 8-5 decision over Northwestern's David Ferrante. He went on to defeat Maryland's Jonathan Spadafora by 11-5 decision to finish undefeated in varsity duals on the day. He also wrestled Northwestern's Ankhaa Enkhmandakh in extra matches, winning by major decision. He recorded eight takedowns over two varsity duals.
At 174 pounds, Mikey Labriola maintained his unblemished season record with two wins Saturday. He earned his first major decision victories of the season, defeating Northwestern's Troy Fisher, 19-7, and Maryland's Philip Spadafora, 14-5.
Taylor Venz (184 pounds) also finished unbeaten against Saturday's opponents, including a win in the extra matches, to improve to 3-1 on the season. He started the day with a statement win over Northwestern's Jon Halvorsen, earning 16 unanswered points for a technical fall victory in 4:57. The senior went on to pin Northwestern's Jack Jessen in extra matches before taking down Maryland's Kyle Cochran, 4-2.
Eric Schultz extended his regular season win streak to eight matches with a 3-2 win over Northwestern's Lucas Davison and a 16-7 major decision over Maryland's Jaron Smith. With two wins, Schultz has won 70 total matches as a Husker, including 37 duals.
Closing out each dual at heavyweight was Christian Lance, who earned his first wins of the season. After beating Northwestern's Jack Heyob by 12-4 major decision, Lance recorded two pins against Maryland. He pinned Bryan Bowes in 4:11 in the extra matches before closing the night by pinning Garrett Kappes in 6:47.
Wrestling for the first time this season in extra matches were Jordan Kelber and Brandyn Van Tassell. Kelber pinned Northwestern's Jamie Berg while Van Tassell picked up his first win as a Husker over Northwestern's Jadon Martin.
The Huskers return to the mat on Sunday, Jan. 31 to host No. 22 Wisconsin for the final home dual of the season.
Nebraska 26, Northwestern 10
125: #11 Liam Cronin (NEB) major dec. Matt Vinci (NW) 15-5 (NEB 4, NW 0)
133: #18 Chris Cannon (NW) major dec. Alex Thomsen (NEB) 14-1 (NEB 4, NW 4)
141: #9 Chad Red Jr. (NEB) dec. Colin Valdiviez (NW) 6-4 (NEB 7, NW 4)
149: #20 Yahya Thomas (NW) dec. Brock Hardy (NEB) 4-1 (NEB 7, NW 7)
157: Maxx Mayfield (NW) dec. Caleb Licking (NEB) 6-4 SV-1 (NW 10, NEB 7)
165: #19 Peyton Robb (NEB) dec. David Ferrante (NW) 8-5 (NEB 10, NW 10)
174: #4 Mikey Labriola (NEB) major dec. Troy Fisher (NW) 19-7 (NEB 14, NW 10)
184: #7 Taylor Venz (NEB) tech. fall Jon Halvorsen (NW) 16-0 (4:57) (NEB 19, NW 10)
197: #2 Eric Schultz (NEB) dec. #11 Lucas Davison (NW) 3-2 (NEB 22, NW 10)
HWT: #17 Christian Lance (NEB) major dec. Jack Heyob (NW) 12-4 (NEB 26, NW 10)
Extra Matches
141: Ridge Lovett (NEB) major dec. Justin Benjamin (NW) 10-2
149: Jordan Kelber (NEB) pinned Jamie Berg (NW) (5:58)
149: Trevor Chumbley (NW) dec. Jevon Parrish (NEB) 6-2
184: Brandyn Van Tassell (NEB) major dec. Jadon Martin (NW) 14-7
285: Cale Davidson (NEB) pinned Brendan Devine (NW) (2:29)
141: Chad Red Jr. (NEB) dec. Frankie Tal-Shahar (NW) 3-2
165: Peyton Robb (NEB) major dec. Ankhaa Enkmandakh (NW) 17-5
184: Taylor Venz (NEB) pinned Jack Jessen (NW) (1:57)
Nebraska 36, Maryland 0
125: #11 Liam Cronin (NEB) pinned Zach Spence (UMD) (2:19) (NEB 6, UMD 0)
133: Alex Thomsen (NEB) dec. Jackson Cockrell (UMD) 6-2 (NEB 9, UMD 0)
141: #9 Chad Red Jr. (NEB) dec. Danny Bertoni (UMD) 7-4 (NEB 12, UMD 0)
149: Brock Hardy (NEB) dec. Hunter Baxter (UMD) 4-0 (NEB 15, UMD 0)
157: Caleb Licking (NEB) dec. Michael Doetsch (UMD) 5-1 (NEB 18, UMD 0)
165: #19 Peyton Robb (NEB) dec. Jonathan Spadafora (UMD) 11-5 (NEB 21, UMD 0)
174: #4 Mikey Labriola (NEB) major dec. Philip Spadafora (UMD) 14-5 (NEB 25, UMD 0)
184: #7 Taylor Venz (NEB) dec. Kyle Cochran (UMD) 4-2 (NEB 28, UMD 0)
197: #2 Eric Schultz (NEB) major dec. Jaron Smith (UMD) 16-7 (NEB 32, UMD 0)
HWT: #17 Christian Lance (NEB) pinned Garrett Kappes (UMD) (6:48) (NEB 38, UMD 0)
Extra matches
141: Tucker Sjomeling (NEB) major decision Nathan Porter (UMD) 20-7
157: Jevon Parrish (NEB) major dec. Garrett Fisk (UMD) 12-2
285: #17 Christian Lance (NEB) pinned Connor Bowes (UMD) (4:11)
197: Kevin Makosy (UMD) dec. Brandyn Van Tassell (NEB) 6-4