Nebraska men's basketball drops 8th straight with loss at No. 17 Iowa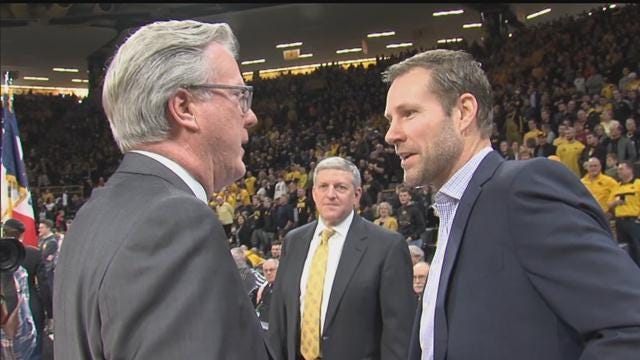 jkoller@klkntv.com
The Nebraska men's basketball team drops its 8th straight game with a 96-72 loss at No. 17 Iowa.
Courtesy: UNL Media Relations
*-Nebraska falls to 0-4 against ranked teams, all coming in Big Ten play.
*-The win by Iowa snapped Nebraska's two-game win streak in the series. NU is now 2-17 all-time in Iowa City
*-Jervay Green reached double figure for the eighth time this season, finishing with 18 points in the game, including 11 in the first half. It surpassed his high in Big Ten play this year (11 at Rutgers) and is the most since scoring 22 against Southern on Nov. 22. Green has scored in double figures in three of his four Big Ten road games, including each of his last two conference road tilts.
*-Mack finished with a season-high three steals, topping/matching his previous best of three set three other times, most recently against Texas A&M-Corpus Christi on Dec. 29. He finished with three assists, moving into sole possession of sixth place on Nebraska's single-season list with 148 on the season.
*-Mack finished with 13 points, his team-high 20th double-figure effort of the season.
*-Dachon Burke Jr. finished with 12 points for his 13th double-figure game of the season.
*-Nebraska now has 17 double-figure runs this season after a 12-0 run in the first half today. NU held the Hawkeyes scoreless for a stretch of 8:31 in the first half. The 12-point run tied for the Huskers' largest run in Big Ten play this season (also had a 12-0 run against Purdue on Dec. 15). It also tied for Nebraska's second-largest run overall this season, trailing only a 13-0 run against South Dakota State on Nov. 15.
*-Akol Arop scored four points in a career-high 11 minutes. The four points tied his career high and marked the second straight game he scored four points, after Arop had scored only two points in the first 10 games of his career.
*-Charlie Easley scored seven points, one shy of his career high.