Nebraska walk-on finds motivation through local runner
Matthew Nolde and Husker William Przystup met two years ago at a Nebraska Football Road Race.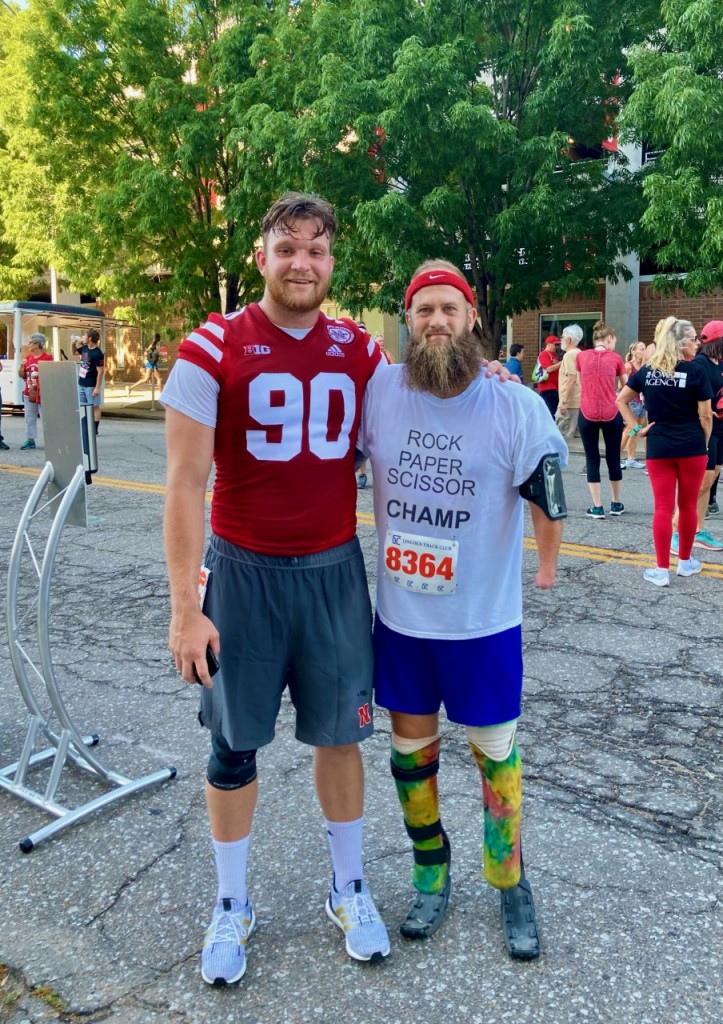 LINCOLN, Neb. (KLKN) – William Pryzstup was never used to long distance running. In fact, the 6-foot-4, 250 pound Nebraska punter was used to drills.  That started to change when he first participated in the Nebraska Football Road Race.
"A handsome man came up next to me, passed me and was saying you got this," Pryzstup explained. "That man was Matthew. I don't know what kicked into me, but something made me want to run more. As I was running next to him, I could have a conversation with him, got to know him more. By the end of the race, I gained a friend."
Local runner Matthew Nolde is not only a friend to Pryzstup, but an inspiration.
He was born with no feet or hands. Despite this, he gained a passion for running in 2015.
"I kind of set forth a little goal of running a mile a day, and then two miles and three miles," Nolde said. "I upped it to about nine before the half marathon and I did go ahead and run the half marathon."
During the Nebraska Football Road Race two years ago, he noticed Pryzstup right away. The two ran side by side the entire race.
"He was one of the only players running," Nolde said. "I didn't see anyone else. I was like you know, I need to encourage him. He's going to encourage me, I bet. We just traded off the encouragement the last two-thirds of the race. Sometimes I was picking him up, sometimes he was picking me up."
Ever since, the two have ran each road race together. During this year's race, the two finished at 29 minutes, their best time yet. When they run, they ask about each other's family and check up on each other. Pryzstup and Nolde stayed connected during the pandemic.
"It started to dawn on me that nothing can stop me from getting my goal, just like Matthew does," Pryzstup said. "It's great to see if it's just one person, everyone can do it and its not impossible."
Nolde said he wouldn't be where he is at today without his girlfriend, Ayndrea, and kids Ava and Dominic.
You can view the full story in the video above.