New on-demand StarTran service to begin Monday
Door-to-door service through StarTran's pilot program VANLNK begins Monday.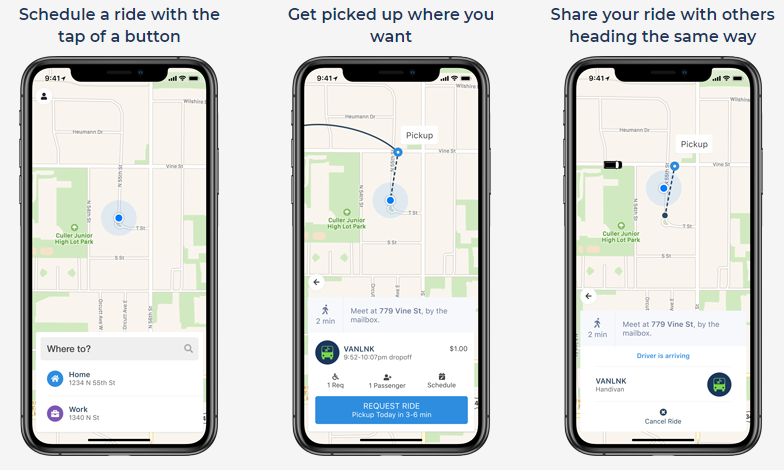 VANLNK, StarTran's new on-demand transportation service, will begin operation Monday as a pilot project.
The door-to-door service is available to the general public, as well as Handi-Van riders.  The cost is $5 per person, per trip.  Those who qualify for the Handi-Van service will pay no fee.  Reservations, payments, and cancellations will all be handled through the VANLNK app.
The pilot service will operate Mondays through Fridays from 5:40 a.m. to 8:30 p.m., with the last pickup at 8 p.m.  Saturday hours are from 6:30 a.m. to 6:30 p.m., with the last pickup at 6 p.m.
The service is not in operation on Sundays.  Reservations must be made on the same day the service is needed, and rides will be based on the availability of vehicles and StarTran drivers.  Handi-Van patrons may still phone in their reservations through the normal procedure, up to a week in advance.
At least 15 vehicles will be in service, with a maximum number of 27 vehicles.  The vehicles include mini-vans as well as vans that normally seat 10 to 12 passengers.  VANLNK vehicles will carry no more than two passengers at a time. All vehicles have a lift or ramp accessibility.
In a press release, StarTran Transit Manager Mike Davis said that prior to the pandemic, StarTran was planning a summer micro-transit pilot for HandiVan riders.  "With more people staying home and decreased ridership, launching this pilot early made sense," Davis said.  "The on-demand services will offer both drivers and passengers a safe and efficient transportation alternative during this public health emergency.  We'll evaluate the pilot project to determine how long the service will continue."
Davis said StarTran is cleaning buses every evening using a disinfectant spray that remains on surfaces overnight to kill bacteria and germs.  Drivers have also been provided with masks, disposable gloves, and sanitizer.  Handi-Vans are disinfected every time the van is empty.
For more information on StarTran or questions on this new service, visit their site here, or call 402-476-1234.