On this date: Record hail pounds Aurora
It's been 18 years since a record was set in Aurora... a record that still stands today.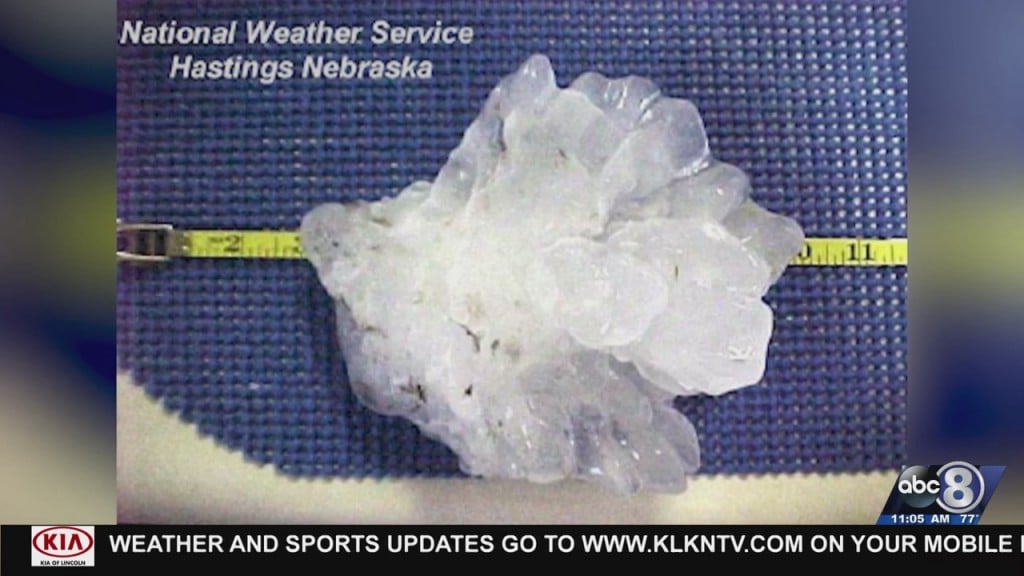 AURORA, Neb. (KLKN) – June 22nd, 2003: a quick but fierce hailstorm pounds the City of Aurora. In its wake, there would be damage, but also a record.
"It didn't last very long", reflects Tamara Brophy. "I think the storm was maybe 15 minutes. I don't remember it being that super long, but there was a lot of rain and a lot of big hailstones."
Aurora Mayor Marlin Seeman wasn't mayor at the time, but he was in Aurora. Out visiting friends, they noticed the storm picking up, and their host invited them to park their car in his metal building. "It sounded very much like the classic drumbeat of the very loud hailstorm on that building", said Mayor Seeman.
Tamara was taking shelter at her parents' house with her husband, Aric, and their two children. But as they waited out the storm, they started to notice just what was happening.
"As the hailstones kind of proceeded to get bigger and bigger, we thought, 'wow'. I mean, you could hear them thud to the ground", said Tamara.
That's about the time somebody had the bright idea to go outside. The lucky volunteer would be Aric. "He comes back, and he goes, 'I need a helmet! They're whizzing past my head!'", laughs Tamara.
Good thing Aric had the helmet, because the group noticed one particular stone hit the neighboring house's gutter and fall to the ground. Although some bits broke off, and the heavy chunk of ice was partially embedded in the lawn, Aric was able to bring it inside.
In the aftermath, property damage was estimated at around $500 thousand, crops went into the million-dollar-range. But everybody was safe. Houses were repaired, crops grew back, but the hailstone lingered on. "It was quite the story for quite a while there", says Mayor Seeman. "Everybody was visiting about, 'Oh, where were you compared to the big stone?'"
Even though hindsight suggests the stone should have stayed where it was for a little while, it all worked out, and Aurora got a record out of the deal. Still, Tamara says, "We never should have sent anyone out there to run around, but you know, it was fun!"
Aurora's record still stands, in part. The diameter record was unseated by a hailstone from South Dakota in 2010. However, the Aurora stone's 18.75 inch circumference is a record unmatched to this day.
If you'd like to delve into the particulars, you can view the government reports here and here.