One-on-one with Gov. Ricketts: State vaccine plan, vaccinating inmates, D.C. riot, and property taxes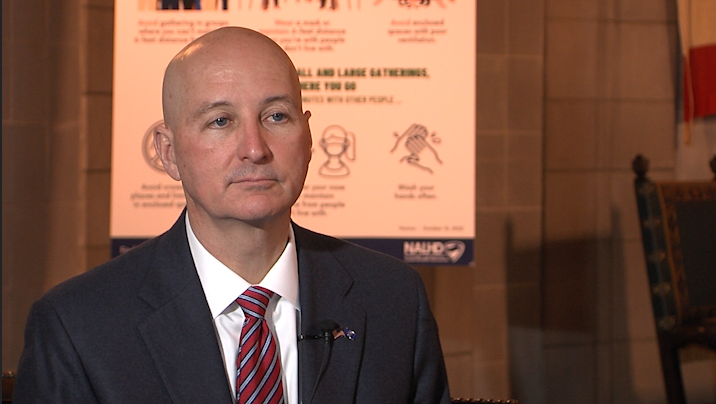 LINCOLN, Neb. (KLKN) – Channel 8 Eyewitness News went one-on-one with Gov. Pete Ricketts on Friday to ask about some of the biggest issues facing Nebraska.
Despite Oregon's governor saying she was told by a high-ranking member of Operation Warp Speed that states would not be receiving increased shipments of COVID-19 vaccines next week from the federal stockpile because it is depleted, Ricketts says that's not the case for Nebraska.
Ricketts said Gov. Kate Brown may have gotten misinformation or was possibly confused by the information states were given. He said Nebraska's allocations of the vaccine are on track.
"Our plan here in Nebraska all along involved that for every first dose we had a second dose," he said.
Ricketts said the federal government doesn't have a "stockpile," but rather intentionally held back second doses of the vaccine until the proper time came to distribute them.
As for who will receive those doses, Ricketts confirmed inmates will be included in Phase 1C. That means they'll have the option to be vaccinated before members of the general public.
He said concerns over close quarters in prisons and the proximity corrections staff have to inmates were factors in the decision.
"We're trying to make sure that we're looking out for the overall public safety," he said. "By controlling outbreaks in our corrections system, we certainly have lots of our state teammates there and they go out in the public. So that really helps the general public as well as the inmates."
As for the events in Washington D.C. last week, Ricketts said the people who attacked the U.S. Capitol did it of their own accord and should be held responsible for their actions.
When asked whether President Donald Trump helped incite the violence, Ricketts said the president only told his followers to march to the Capitol and protest peacefully.
"No one told them to attack the Capitol, they did that of their own accord," he said.
The Governor also said he is confident that Nebraska's leaders and legislatures will work together confidently this year, despite political tensions nationwide.
During his state of the state address, Governor Ricketts expressed that lowering property taxes is another major priority for the upcoming year. When asked about how he plans to manage the funding gap if he is successful in lowering property taxes, he says the state can look for a number of ways to continue to maintain school funding, citing bill LB1107, which was passed last year and already offers more funding for schools.
If the constitutional amendment the Governor is proposing this year with Senator Linehan passes, it would limit the growth of tax askings to 3%. Ricketts says there will be opportunities for bonding, overrides, and already growing school districts won't be limited.
All in all, the Governor hopes to lower property tax bills for Nebraskans in all localities "as much as we can."
In 2021, the Governor said he just hopes things will settle. In 2019, he says Nebraskans were ready to move to 2020 and get past the trauma of the flooding and the damage that followed. But of course, the pandemic followed shortly after.
"I just hope we don't work through this pandemic and something else hits in 2021," he says. "I think that's what all Nebraskans want."