Crews battle overnight fire at Lincoln rail yard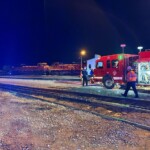 LINCOLN, Neb. (KLKN) — Several crews were called to a fire around the train tracks just off of O Street early Thursday morning.
The fire happened at the BNSF Hobson Yard near Roundhouse Drive and West O Street.  It was first reported just after 3 a.m.
A Channel 8 reporter says firefighters appeared to be working on a train car.
Channel 8 has sent a request to BNSF for more details.
Stay with us online and on-air for any updates.