Reaction- No. 24 Penn State beats Nebraska men's basketball 76-64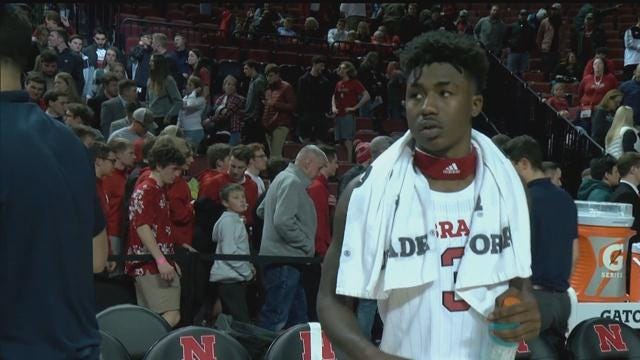 jkoller@klkntv.com
Post game reaction- No. 24 Penn State beats Nebraska men's basketball at home 76-64 on Saturday night. WATCH:
Courtesy: UNL Media Relations
Nebraska suffered its first loss to Penn State at Pinnacle Bank Arena, as the Huskers had been 5-0 against the Nittany Lions inside The Vault. Penn State's win was just its second in 10 trips to Lincoln, including its first victory in nine regular-season games.
Charlie Easley earned his first career start tonight, as Nebraska used its fifth different starting lineup of the season.
Thorir Thorbarjarson finished with 12 points, his fifth double-figure outing in the last six games, and his 10th of the season. He went 2-of-3 from 3-point range and is now shooting 46.3 percent from long range this season.
Yvan Ouedaogo scored six points and grabbed six rebounds. With his six rebounds tonight, he moved into 10th place on Nebraska's freshman list and now has 131 rebounds on the season.
Cam Mack finished with three assists and moved from ninth to a three-way tie for sixth on NU's single-season assist list. He passed Tyronn Lue (144, 1995-96) and tied Jack Moore (145, 1979-80) and Lance Jeter (145, 2010-11).
Matej Kavas saw his first action in four games and scored eight points in eight minutes, going 3-of-4 from the field including 2-of-3 from the 3-point line. Kavas' eight points were his first points since he scored nine points at Northwestern on Jan. 11.
Akol Arop scored four points in the final 45 seconds, connecting on the first two field goals of his career. Arop, who entered the game with two career points, was 0-for-2 from the field in his career before going 2-2 tonight.
The Huskers committed 13 turnovers and had just 12 assists, marking Nebraska's first game with more turnovers than assists since the Creighton game on Dec. 7, 2019. The Huskers had recorded more assists than turnovers in each of their last 12 games.
Nebraska's bench scored 19 points, the third-most bench points the Huskers have scored in Big Ten Conference play.
Nebraska Head Coach Fred Hoiberg
On Nebraska's overall effort:
"I thought in the first half we came out and got off to a great start. I thought we battled through a tough stretch, continued to hang in there, weather the storm, cut the deficit to five going into halftime. We go 4-for-11 from the free throw line [in the first half]; if we make three more free throws, we're down two at the break. Five is still a manageable number, and I thought we had a little momentum going into halftime because we didn't play our best basketball going into the half but it was still only a two-possession game. Then we came out in the second half…It's beyond me: We come out in the second half with the same group of guys, same team, and lay an egg for the first three, four minutes of the half. Now we're down 13 all of a sudden. They go on an 8-0 run to start the half. We have to find a way…I say this every week, we have to find a way to be consistent. The one thing that has been there is the effort. I've been pleased with the guys coming out and their approach, going out there and leaving it all out on the floor. Tonight, that wasn't the case. I feel sick about it, in our home building with an unbelievable crowd, to go out there and have that type of thing happen. You have to find a way to compete for 40 minutes. We did for the first 20, then you see heads hanging and I'm battling frustration with the guys, there's no question about that, with everything we're going through, the losing streak. It's no excuse to not go out there and compete your ass off, compete until the final buzzer, whether things are going your way or you're struggling. It has to be a consistent effort for 40 minutes every time we take the floor and that was not the case tonight."
On why Cam Mack didn't start and his performance tonight:
"We have a rule of being on time, and Cam was three minutes late for a film session yesterday, so that was the reason Cam did not start tonight. I sat him for the first four minutes; he went back in the game and unfortunately got in foul trouble. He just could never get it going tonight."
On his frustration level at this point in the season:
"This is all part of the process. This is all part of the good times and the bad times we have to learn from. We have to be better moving forward this year and certainly into next year. There is three guys sitting out and they see it, they understand it, we talk about it. I'm excited about the recruiting class we're going to bring in here. For me, I've talked to the team every day about going out there and competing at a high level and for the most part they've done that, they really have. Pretty much the entire team hasn't been through what they're going through right now at this level. That's the frustration I've had; you can't let it affect your effort and intensity on the basketball court."
On the effort from the group put into the game in the final seven minutes of the contest:
"I was proud of those guys. They went out and fought. Diving on the floor…I liked Akol's energy out there. I told him, 'We have a week to figure this thing out: Who wants to be on the floor?' I'm going to put my competitive players on the floor. It's a big week for us, heading into next week. It's not going to happen again, where the guys out there are hanging their heads and not playing with the type of energy we need to, especially in this building in front of these fans. They support us too much to do that to them. It makes me sick that we played like that in front of our great fans."
Junior Guard Thorir Thorbjarnarson
On the difference in start of the game for the Huskers vs the ending
"I think we shared the ball really well in the beginning, got off to a hot start. We cooled off at the end of the half. We went 8/22 to end the half and then the beginning of the second we didn't do a good enough job."
On the frustrations of the last few games
"I feel like most of the first halves we have been doing great, playing good maybe today we gave up too many points in the first half. But, still we were competing and for us to come out in the second half with that type of competitiveness is inexcusable. We can't keep going like this. This has been the struggle with the last couple of games, the beginning of the second half. We have to just put our heads up and keep going, it is not going to get any easier. Effort-wise and competitive spirit, we have to do a better job in that."
On the message to send to the team in conference play
"I feel like it shouldn't matter where you're playing, when you get into conference play. It is a battle for 20 games for the Big Ten, especially with the way it has been playing this year, every team can beat each other. I try to preach that, that we just have to keep going."
Penn State Head Coach Patrick Chambers
Opening Statement
"This was a scary game to me. I watched a lot of tape on Nebraska. Obviously, that Rutgers game at Rutgers, the way they can shoot the basketball. They make nine and a half threes a game. Any team that can make that many threes puts fear in you as a head coach. We were fortunate that we were able to shoot the ball well. Nebraska definitely jumped us early in the first ten minutes. I was proud of our guys of how they responded. You never know on the road what's going to happen. I thought our defense did a good job to get us back in the game. We did a good job defending and rebounding in the half-court for the most part."
On if they defended Cam Mack differently
"Jamari [Wheeler] is a really good defender, but it wasn't just Jamari or [Izaiah] Brockington, it was all five guys having to defend Mack. He can't just defend him one on one. I thought in the first half they made some one-on-one plays, specifically by [Dachon] Burke. They kept it very close. I thought for the most part our team defense did a really nice job."

On what advice he would give to Fred Hoiberg on being a first-year head coach
"I see guys in street clothes. That's what happened with us. You have guys in street clothes who have to sit out a year and can play next year. I like what he's doing. He's got great spacing. He's really smart. He's taking a lot of threes, but I think that gives this team the best chance to win. I like his younger guys. [Cam] Mack is a sophomore. Big fella Yvan Ouedraogo is a freshman. I think he's headed in the right direction for what you need to do in this league. There's going to be some speed bumps. This year obviously, but next year with those guys being eligible to play, he'll be right back in the thick of things. He's too good of a coach."