RECORD GUN SALES: Firearm and ammo sales on the rise amid pandemic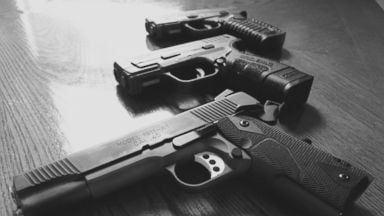 LINCOLN, Neb. (KLKN) – Guns and ammo have been flying off the shelves at 'Big Shots Indoor Range and Gun Store' in Lincoln since March and there is no sign of it stopping.
Big Shots has seen four to five times more in sales then what they usually see, they say most of those buyers are first time gun owners and many women.
"We are up about 45 percent on first time firearm buyers and we are probably at least that on female purchasers," Jim Clark, the owner of Big Shots said.
Now what exactly is flying off the shelves? What is the popular purchase everyone is trying to get a hold of? Handguns, home defense shot guns, and ammo.
Big Shots believes the reason for these record breaking sales has to do with three things: The pandemic, recent civil unrest, and political division.
Also if you're heading to the store for ammo anytime soon, expect a higher ticket. The prices are climbing on ammunition due to the recent high demand and local gun shops are seeing those affects. Big Shots said they are noticing a shorter supply.
"We don't see any sign of it slowing down anytime soon because either way the election goes, I think there will be some unrest," Clark said.