Ribfest announces line-up of bands and barbecue vendors
Fans will be able to try ribs from all the vendors and vote on their favorite.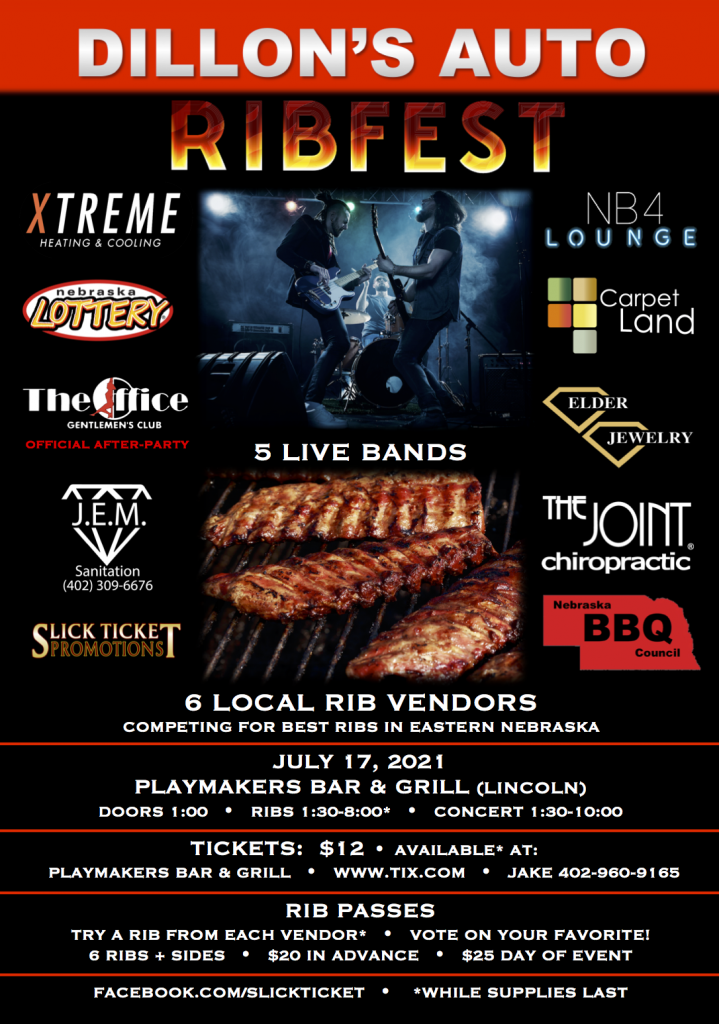 LINCOLN, Neb.—Dillon's Auto Ribfest, a new music and ribs festival in Lincoln, announces its line-up of bands and barbecue vendors.
The inaugural Dillon's Auto Ribfest will take place at Playmakers Bar & Grill, July 17, 1-10 p.m., and will feature six live bands playing back-to-back all afternoon and evening. Additionally, six barbecue vendors will compete for the title of Best Ribs in Eastern Nebraska, awarded by the Nebraska Barbecue Council and incorporating the fans' vote.
"If you like live music, barbecue ribs, drinking beer, or all of the above, this is where you want to be on Saturday, July 17," Nebraska Barbecue Council president, Jake Van Lent said.
The new event comes nearly three years after the last installment of Capital City Ribfest, which was a Lincoln staple for 22 years. While Capital City Ribfest routinely drew 15,000 to 30,000 people over a weekend, ticket sales will be limited to about 2,500 for the one-day Dillon's Auto Ribfest due to the smaller, more intimate outdoor venue. Fewer than 2,000 tickets remain.
Another key difference will be an emphasis on local music and local ribs. Instead of traveling barbecue teams from other states, the Nebraska Barbecue Council is showcasing top rib vendors from eastern Nebraska, creating a meaningful competition between barbecue rivals for bragging rights and a $500 prize.
Most importantly, fans will be able to try ribs from all the vendors and vote on their favorite. A Rib Pass—similar to a punch-card—can be purchased for $20 in advance or $25 the day of the event. It entitles the holder to six ribs and six miniature sides: one rib and one side from each vendor (while supplies last). Fans can also purchase meal deals and slabs of ribs at the event.
Admission is $12, which grants fans access to the six-band concert; ribs are sold separately. A Rib Pass alone does not grant admission to the event without a ticket. All ages are welcome. Tickets and Rib Passes can be purchased at www.tix.com or at Playmakers Bar & Grill.
Bands:
Steel City Band (Waverly)
Hookt (Lincoln)
Gabe Nelson with Pants (Lincoln)
Featherfoot Charlie (Omaha)
Tim Budig Band (Lincoln)
Malpractice (Lincoln)
Barbecue Vendors:
Mary Ellen's (Lincoln)
Smokin' Gunz Bar-B-Que (Omaha)
Sweet Blue BBQ (Lincoln)
Dickey's Barbecue Pit (Lincoln)
Tilley's Stick Burner BBQ (Bellevue)
GrannyWeavs Soul Food (Lincoln)