Ricketts outlines plans for $1.1 billion in coronavirus aid
Ricketts provided a first glimpse of the state's plan, which focuses heavily on small businesses and unemployment insurance for laid-off workers.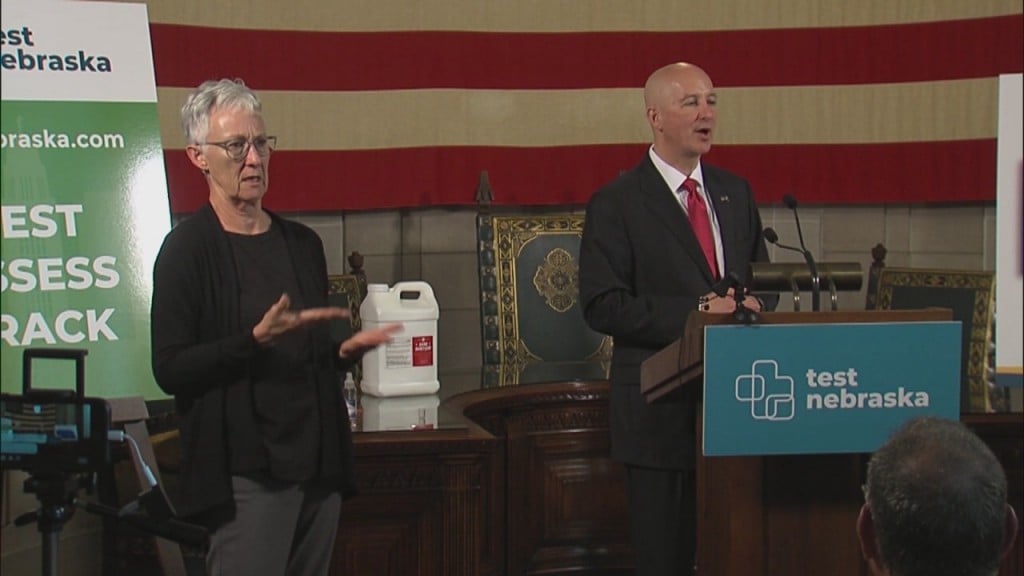 OMAHA, Neb. (AP) — Nebraska will use its $1.1 billion share of federal coronavirus money to help small businesses, local governments, nonprofits and other groups hard-hit by the pandemic, Gov. Pete Ricketts said Wednesday.
Ricketts provided a first glimpse of the state's plan, which focuses heavily on small businesses and unemployment insurance for laid-off workers.
Nebraska will receive $1.25 billion under the federal CARES Act, the emergency law passed to help Americans with the pandemic. Of that amount, Omaha's Douglas County will get $166 million for its own virus-related expenses, reducing the state government's cut to about $1.1 billion.
Ricketts said he intends to hire outside auditors to track the huge influx of money and ensure that it doesn't get misspent. The law prohibits states from using its share on non-virus expenses or to replace lost tax revenue.
"We want to make sure that some day in the future, there isn't an audit by the federal government that comes back and says, 'Hey, this was not coronavirus-related that you spent this money on,'" Ricketts said at a news conference.
Ricketts said he plans to set aside $330 million for small businesses, defined as having five to 49 employees, and small livestock producers.
Business and producers can each apply for up to $12,000 in state grant money. Ricketts said many of those companies didn't have the connections or resources to seek previous rounds of federal aid before the application deadlines passed.
The largest chunk of the federal money, $427 million, will go to the state's unemployment trust fund that has been taxed by a surge of new jobless claims. Ricketts said he's hopeful the money set aside for small businesses will reduce the need for unemployment benefits, but he wanted to ensure the state had enough if needed.
Another $100 million will go to local governments to cover the costs of protective equipment, sanitizing buildings and employee overtime expenses. Ricketts said counties that want to qualify will have to reopen their courthouses for in-person visitors by June 8.
Ricketts said he'll use another $85 million to create a state grant program for groups that provide food, housing and other types of assistance. And another $80 million will be used to reimburse the state for its virus response.
Meanwhile, Nebraska's prisons, jails and detention centers continue to see staff infected with the new coronavirus, as the state's death toll and positive COVID-19 cases climbed Tuesday.
The Nebraska Department of Correctional Services reported Tuesday that a staff member at the Nebraska State Penitentiary has tested positive for the virus. That marked the seventh staff member at the penitentiary and the 12th throughout the state's prisons system to test positive since the outbreak began.
Officials in Omaha also confirmed a third officer with the Douglas County Department of Corrections has tested positive and has been hospitalized with COVID-19, and an employee of the Douglas County Youth Center has also tested positive.
Word of those new cases came as the state's online coronavirus tracker showed three more deaths from the virus Tuesday, bringing the state's total to 153. Among those deaths was a ninth at a west Omaha nursing home that has been ravaged by the virus. Of the 79 residents at Life Care Center of Elkhorn, 68 have tested positive. Another 264 cases were confirmed Tuesday, bringing Nebraska's total cases to more than 12,600.
For some infected people, especially older adults and people with existing health problems, the virus can cause severe illness or death. But for most people, it causes mild or moderate symptoms, such as fever and cough, that clear up in two to three weeks.