Ricketts warns of 'civil unrest' if meatpacking plants close
Ricketts said he was concerned that shuttering the plants could hurt the state's food supply and lead to "civil unrest" if residents were to suddenly lose access to meat.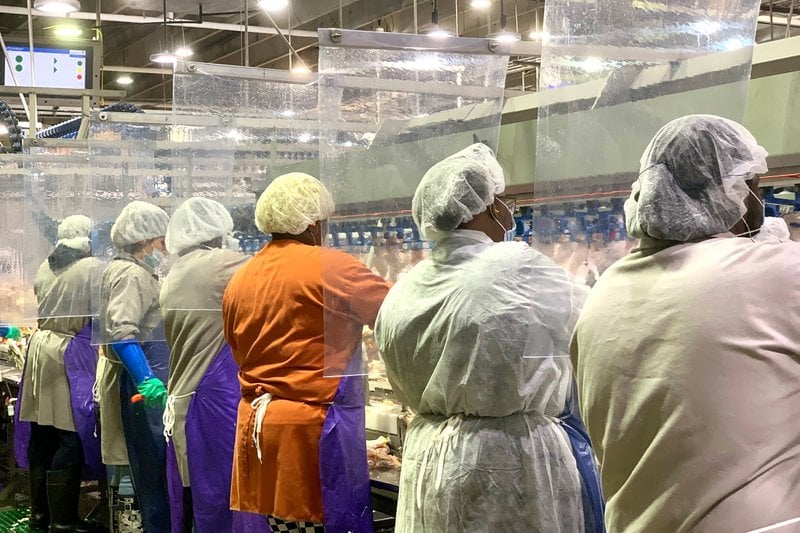 LINCOLN, Neb. (AP) — Gov. Pete Ricketts said Thursday that he doesn't plan to close any of Nebraska's meatpacking plants despite a surge in coronavirus cases in their surrounding communities that have turned them into the state's biggest COVID-19 hot spots.
Ricketts said he was concerned that shuttering the plants could hurt the state's food supply and lead to "civil unrest" if residents were to suddenly lose access to meat.
"You want to talk about some of these protests going on right now?" he said during a news conference. "Think about how mad people were when they couldn't get paper products. Think about if they couldn't get food. This is why it's vitally important that we keep our food processors open and do everything we can to ensure the supply chain, because we would have civil unrest if that was not the case."
His comments came as Dakota County, home to a Tyson plant, reported 133 new COVID-19 cases on Thursday, bringing its total to 246. Tyson has acknowledged that some of its workers are among the infected, but it wouldn't give the exact number. At least one employee died Saturday.
Ricketts said employees who worked close together at the plants may be responsible for some of the spread, but he argued that the local outbreaks may also be driven by large groups living together in shared homes, as is common in many meatpacking towns.
"This is a community issue," he said. "… We have to focus not only on what the worksites are doing, but also what's going on at home."
Coronavirus hot spots have surfaced in Hall, Dawson and Dakota counties, all areas of Nebraska with meatpacking plants and large concentrations of workers who often stand side by side to carve meat. The number of cases in Hall County has even surpassed the Omaha area, which has more than nine times as many people.
Plants throughout the country have faced similar problems, leading to them to suspend their operations in South Dakota and Iowa.
Nebraska Farm Bureau President Steve Nelson said the state's farmers are already hurting from those shutdowns and production slowdowns in other states.
"Widespread closure of processing plants, even for limited periods of time, could be devastating for farmers and consumers alike," he said.
Nebraska state health officials reported four new COVID-19 deaths late Wednesday, bringing the state's total deaths from the disease to 45.
All of the latest deaths reported by the Nebraska Department of Health and Human Services were from the hard-hit Grand Island area, which has emerged as a hot spot.
Three of the new deaths were in Hall County, including a woman who was in her 60s, another who was in her 70s, and a man who was in his 60s. The fourth death was a woman who was in her 90s in neighboring Hamilton County.
For most people, the coronavirus causes mild or moderate symptoms. For some, especially older adults and people with existing health problems, it can cause more severe illness.
Nebraska's online coronavirus tracking portal on Thursday morning showed 1,813 confirmed cases in the state. Nearly 17,400 people had been tested for the virus statewide, with more than 15,500 testing negative for the illness. The actual number of infections is thought to be far higher because many people have not been tested and studies suggest people can be infected without feeling sick.