Severe Weather Arrives Mid-Afternoon Sunday
Flooding is main concern, along with hail, damaging winds and tornadoes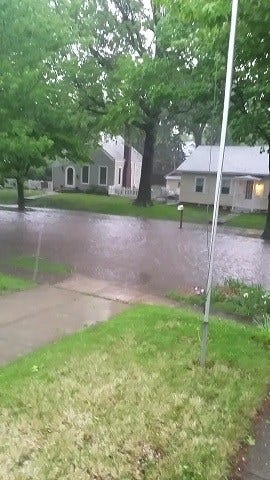 UPDATED 7:50 P.M.
A SEVERE THUNDERSTORM WARNING is in effect until 8PM for Nuckolls and Webster counties. 60MPH wind gusts and 1″ hail are possible. Landspout tornadoes could form along a line of weak thunderstorms in eastern Clay, northern Nuckolls and western Fillmore counties until 8:30PM.
UPDATED 7 P.M.
Brief LANDSPOUT TORNADOES are possible in southeastern Clay county, central Nuckolls county and southwestern Fillmore county until 7:45PM. Take shelter if in these counties.
UPDATED 6:40 P.M.
Landspout tornado reported near Edgar (in Nuckolls county) at 6:26PM, travelling northwest at 5MPH.
Brief LANDSPOUT TORNADOES are possible in southeastern Clay, northeastern Nuckolls, southwestern Fillmore and northwestern Thayer counties until 7PM in association with a line of thunderstorms migrating through that area. These landspout tornadoes are weaker and shorter lived than supercell tornadoes, however can still cause injury and minor damage. Take shelter if in the area.
UPDATED 4:50 P.M.
A line of strong storms which developed near Falls City is now skirting Lincoln to the east as it travels northward. Heavy rain, light hail and gusty winds have been reported with these systems. These storms are diminishing as they migrate toward Omaha.
UPDATED 2:30 P.M.
A SEVERE THUNDERSTORM WATCH has been issued for the southeastern portion of the state until 8 P.M. Isolated strong to severe storms are due to arrive late afternoon throughout the evening hours, bringing damaging winds, hail, heavy rainfall and isolated tornadoes.
A FLASH FLOOD WATCH is also in effect for this area until Monday afternoon, thanks to heavy rainfall anticipated with these storms. Streams and river levels could rise easily with the arrival of a thunderstorm as well as street flooding thanks to previous ground saturation.
POSTED 9 A.M.
Rain showers will clear the area by late morning giving way to partly cloudy skies.
Isolated strong to severe storms have the potential of developing by mid-late afternoon, primarily in southeast Nebraska. These storms could deliver hail, damaging winds, a few isolated tornadoes and localized heavy rainfall.
Rainstorms the past couple days have saturated the ground for many locations throughout southeastern Nebraska, prompting a FLASH FLOOD WATCH for this evening into Monday.
These strong storms will continue throughout Sunday evening and overnight.