UPDATE: 3 killed in I-80 crash were from Lincoln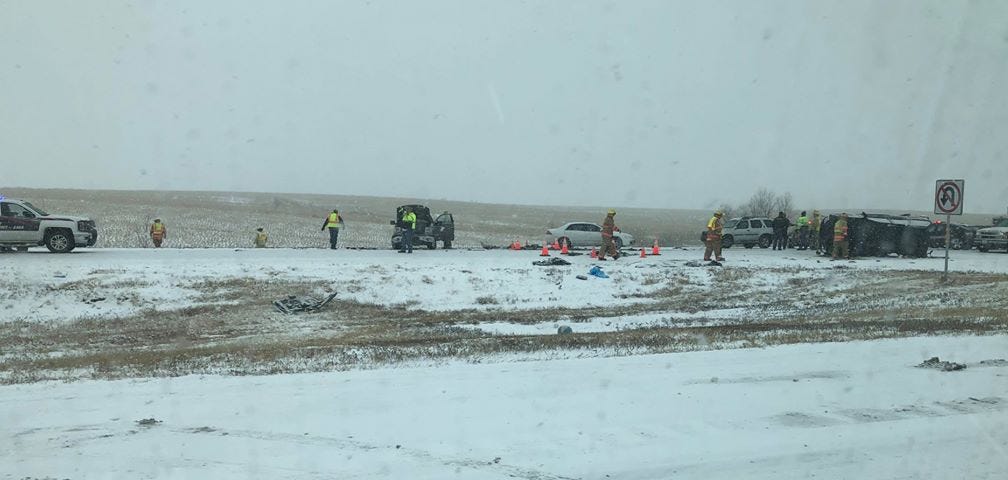 Authorities said three people killed in a crash Sunday on Interstate 80 were from Lincoln.
The Nebraska State Patrol said Domingo Pascual Velasquez, 19, of Lincoln, and Erica Rafael, 15, of Lincoln, were pronounced deceased at the scene. Heidy Diaz, 10, of Lincoln, was transported to the Nebraska Medical Center in Omaha, where she was later passed away.
A four-year-old passenger of the Traillblazer was also transported to the Nebraska Medical Center in critical condition. The child has since been transferred to Children's Hospital, but remains in critical condition.
The driver, Carlos Bernabe Escobar, 29, and front seat passenger, Carmelina Pascual Bernabe, 28, both of Lincoln, were transported to Bergan Mercy Hospital in Omaha with non-life-threatening conditions.
The Nebraska State Patrol said Bernade Escobar and Pascual Bernabe are parents of the youngest two children. The two older children are their niece and nephew.
The four-vehicle crash happened around 11 a.m. at mile marker 423.
Authorities said a Chevy Blazer was headed east when it lost control on the snow covered road and clipped a Mini Cooper which was also in the eastbound lane. The Mini Cooper spun out of control and ended up in the media, while the Blazer wound up in the westbound lanes where it struck a mini van head-on, authorities said. The impact caused the Blazer to roll and hit a pickup truck.
Five occupants of another vehicle involved, all from Minnesota, were transported to area hospitals with non-life-threatening injuries. Interstate 80 was closed for approximately five hours while rescue crews responded to and investigated the crash scene.
After preliminary investigation, troopers believe that the occupants of the Trailblazer were not wearing seat belts. All occupants of the other vehicles were wearing seat belts. The investigation remains ongoing.