Take look at the finalists backgrounds for LPD chief
We're one step closer to finding out who the next leader of Lincoln's Police Department will be.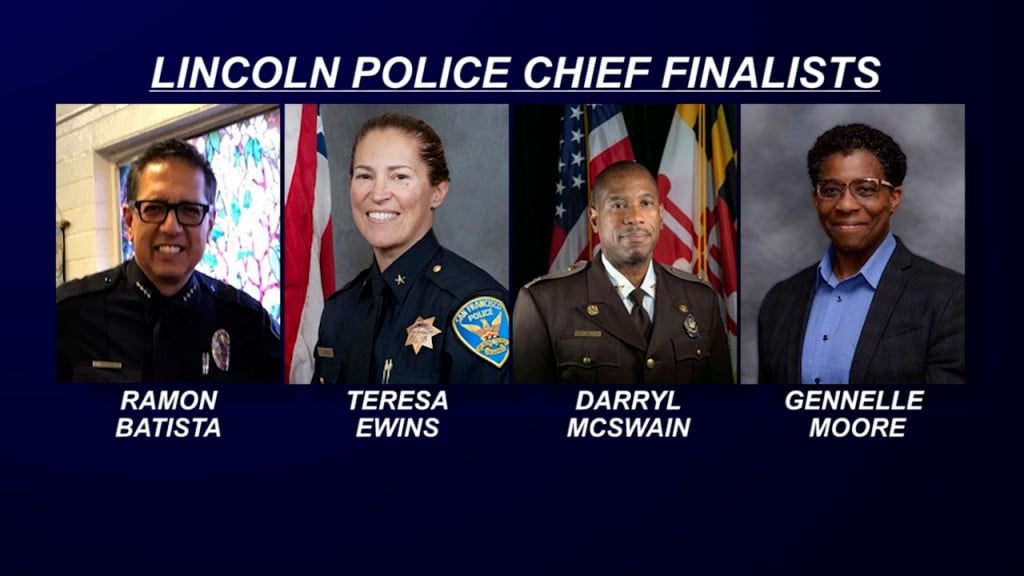 LINCOLN, Neb. (KLKN) — We're one step closer to finding out who the next leader of Lincoln's Police Department will be.
The mayor announced the 4 finalists on Thursday.
"We had over 30 candidates from across the country and I'm so pleased with the caliber of candidates that we received who applied for the position," said Mayor Leirion Gaylor Baird.
This comes after the city made a community survey to make the job description and chip in on the choice for the position.
In that survey, the top qualities people want in a chief are accountability and transparency, experience, crisis management, officer trust, and an understanding of structural racism.
Here is a quick look at the finalists.
Darryl McSwain serves as a police chief in Maryland, has over 30 years of experience, and promotes community engagement with his officers
He said this for a previous interview for a chief position in Tennessee.
"I think it's important that police agencies regularly work with outside entities if you will…it enhances the community's trust in our internal processing it serves to improve legitimacy within the eyes of the public itself," said McSwain.
Genelle Moore is a former LPD captain. She currently works at Lincoln public schools as an HR specialist and was a finalist in 2016 for Lincoln police chief.
According to news sources, Ramon Batista is a former police chief from mesa who has over 30 years of experience, is bi-lingual, and is an author of a book discussing police and citizen culture.
It is important to note he abruptly resigned from that position. He received a no-confidence vote from 95 percent of the police union in 2019 and resigned by text.
Here he is interviewing for a Madison chief position in 2020.
"I'm frankly never going to stop trying to figure out new and innovative ways to reach kids every day. Even in the environment we are in today there is a person that is born with a heart of service," said Batista.
Commander Teresa Ewins is a part of the San Francisco Police Department and has 26 years of experience and oversees 900 sworn members.
We reached out to the finalists. McSwain and Moore declined to speak until after the process. The other 2 finalists did not respond.