Three Husker volleyball players named AVCA All-Americans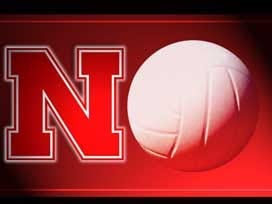 From: News Release
Nebraska volleyball student-athletes Mikaela Foecke and Lauren Stivrins were named AVCA First-Team All-Americans, and Kenzie Maloney was selected to the AVCA All-America Third Team, the American Volleyball Coaches Association announced on Wednesday.
Foecke, a senior outside hitter from West Point, Iowa, earned her second-career All-America honor after earning second-team accolades last year.
Stivrins, a sophomore middle blocker from Scottsdale, Arizona, and Maloney, a senior libero from Louisville, Kentucky, were both honored for the first time.
Freshman setter Nicklin Hames received honorable mention.
It marks only the second time since 2006 that the Huskers have had two AVCA first-team All-Americans.
The Huskers' three AVCA All-America selections improved their nation-leading total to 90 all-time.
A nation-leading total of 45 players have combined for the Huskers' 90 awards.
Foecke leads the Huskers with 3.80 kills per set and is averaging 2.69 digs per set and has 43 service aces this season.
Her current kills per set average is Nebraska's best since 2013 (Kelsey Robinson, 4.45).
The Husker co-captain was a unanimous All-Big Ten selection for the second straight season.
She has 21 aces in her NCAA Tournament career, the second-highest total in Nebraska history.
Only Jordan Larson (36) has more.
Foecke had the third and fourth double-doubles of her NCAA Tournament career at the Minneapolis Regional last weekend, and she was named the most valuable player.
She ranks third on Nebraska's career kills list with 1,638, and her 132 career aces are eighth-most in school history.
The two-time NCAA Championship Most Outstanding Player also has 263 career kills all-time in the NCAA Tournament, second-most in school history behind only Sarah Pavan (304).
Stivrins was a two-time Big Ten Defensive Player of the Week and was also the Big Ten Player of the Week once this season.
The 6-4 middle blocker is averaging 2.33 kills per set on a team-best .409 hitting percentage, which ranks sixth in the nation.
It is NU's highest individual hitting percentage since 2007 (Tracy Stalls, .473).
An All-Big Ten selection for the first time as well this season, Stivrins added serving to her repertoire and has 25 aces.
Stivrins was named to the Minneapolis All-Regional team last weekend after 11 kills on .526 hitting in the regional final win over Oregon.
She had 13 kills with a career-high 10 blocks in a 3-2 win over Penn State on Nov. 2.
Maloney, the Husker co-captain, is averaging a team-best 4.06 digs per set and has played an instrumental role in leading the Huskers to a nation-leading .136 opponent hitting percentage this season.
The Louisville, Kentucky native ranks fifth in NU career history in digs with 1,369.
Maloney posted a career-high 25 digs twice this season, and she was named the most valuable player of the Husker Invite and the best libero at the Ameritas Players Challenge.
Maloney's 36 service aces are the third-most on the team this year.
She and Foecke are the only Huskers in school history to play in four NCAA Semifinals, and they will each play in their 22nd NCAA Tournament match on Thursday, the most postseason matches played by any player in program history.
Hames earned honorable mention after recording a school-record 23 double-doubles this season, averaging 10.46 assists and 3.33 digs per set.
Her 39 service aces are second-most on the team.
Hames was an All-Big Ten Freshman Team member and a two-time Big Ten Freshman of the Week.
The Division I TeamSnap/AVCA National Player of the Year will be announced on December 14 at the AVCA All-America/Players of the Year Banquet.
The Huskers are in Minneapolis getting set to take on No. 3 Illinois in an NCAA Semifinal match on Thursday at 8 p.m. on ESPN, WatchESPN.com and the Husker Sports Network.