Tips and tricks to beat the heat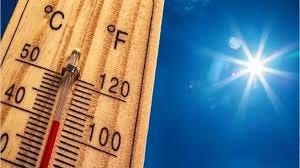 With temperatures expected in the 100's this week, the danger of heat exhaustion rises.

"What folks don't realize is, this is a dangerous time for people who are homeless. We've already lost a couple people in the last month or two out on the streets. It can be very very difficult when the weather is bad," Pastor Tom Barber said.
Pastor Tom with the People's City Mission wants to urge people who are out on the streets that if you are in need of a place to avoid the heat, you can go to the shelter.
The People City's Mission is located on N 1st and Q streets.
They offer meals, showers and water for people in need.
If you're looking for a fun way to stay cool, the city of Lincoln has nine community pools.
However, even the lead lifeguard at Highland Park pool says if you can, stay inside.
"First and foremost stay hydrated. I tell my guards to make sure they are drinking a lot of water while they're out here. Stay out of the heat as much as you can. If you're gunna be in the heat try to be in the shade some," Jill Hitz said.
It's important to remember to drinks lots of water.
If you do have to be outside, it is recommended that you avoid the peak heat hours of the day, which is generally from 1 p.m. to 4 p.m.
If you are eager to get out and cool off, Star City Shores has two water slides for swimmers to choose from, but there seems to be a favorite.
"The blue one, any day of the week. It's so fun. I love going down like right before. We all go down the slide a lot. It's like the best," Hunter Kinnamam said.
If you do plan on braving the heat, Hunter has one more piece of advice.
"If you guys are going to be in the sun, come to the pool it's really nice out. I love on my break, I love to get in and swim," Kinnamam said.
For a list of the community pools in Lincoln:
https://www.lincoln.ne.gov/city/parks/parksfacilities/pools/index.htm
People's City Mission Website: