Tourney win streak extended as under-Dawgs move to NAIA quarterfinals
The 13th-seeded Bulldogs led for roughly 35 minutes and held off a late push from fourth-seeded Marian University.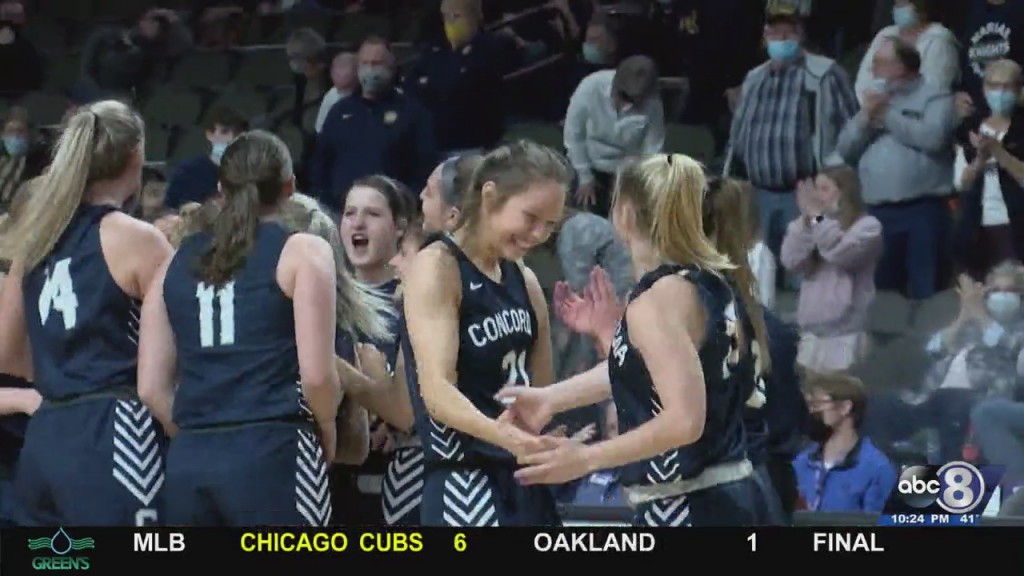 SIOUX CITY, Iowa (Concordia Athletics) – The Concordia University Women's Basketball program continues to make a habit out of rising to the occasion in March. In an unfamiliar underdog role, the 13th-seeded Bulldogs led for roughly 35 minutes and held off a late push from fourth-seeded Marian University (Ind.), 73-67, on Friday (March 19). Freshman guard Taysha Rushton proved fearless in a 27-point outing for the victors, who move on to the NAIA national tournament quarterfinals.
Head Coach Drew Olson's program has won eight-straight national tournament games, dating back to the 2019 national title run. The Bulldogs (22-8) knew they couldn't get into a low-post slugfest with the physically imposing Knights, so they went on the run.
"We believe we're as good as any team," Olson said. "It's all about matchups and who's playing really well at this time. Hopefully we can keep going … it was an awesome performance, just really gritty. Defensively I thought we did a really good job of pressuring the ball full court. Rylee Pauli was awesome in limiting touches, but when they did touch it we did a good job doubling in the post and causing them more problems."
In terms of coaching performances, this has been a Picasso for Olson, who has melded a youthful group into a team of believers. They have developed into the type of tough and gritty squad that opponents hate to play against. Olson unleashed the press on Friday and watched scrappers like Rylee Pauli and Mackenzie Toomey go to work.
The speed and athleticism of Rushton was a problem for Marian. She buried 14 points in the first half and another 13 in the second. A Rushton triple with just over a minute left in the third quarter pushed the lead to 12 (52-40). The lead actually grew as large as 15 points in the fourth quarter after Pauli's put-back basket with 6:40 to play.
Of course the Knights (27-6) were not going to go quietly with their season hanging in the balance. Crossroads League Player of the Year Imani Guy (six points on 3-for-11 shooting) was held in check, Macy Willoughby helped pick up the slack. She totaled 19 points and nailed a triple in the final minute that made it just a one-point game (66-65). Concordia buckled down and Taylor Cockerill emerged with a key steal to preserve a two-point advantage at the time.
It was enough to induce heartburn, but what really mattered was it was the team in the dark blue jerseys celebrating when the clock hit zeroes.
"We just left everything out on the court," Rushton said. "We have to fight and battle every game. That's just what we did – and it was fun. It was super fun out there."
There were shades of vintage Concordia on display as the Marian turnovers mounted during the first half surge that saw the Bulldogs quickly dig out of a 7-0 hole. The Knights finished with 22 turnovers and were outrebounded, 41-38, despite their size advantage. Concordia also owned a large advantage at the foul line, making 17-of-25 attempts compared to Marian going 4-for-4.
Pauli posted 17 points and six rebounds while Cockerill added 11 points, seven rebounds and six steals. Bailey Conrad chipped in with six points and three steals and Toomey supplied six points off the bench. Mackenzie Koepke's scramble of a rebound (one of seven) and bucket in the final minute was one of the more significant plays of the waning moments.
This time of year, it's about surviving and advancing. In an underdog spot, the Bulldogs eliminated a Marian squad that had the look of a team capable of making a deep run. Said Olson, "I just felt like we were a little bit more locked in. The idea of picking up full court really bothered them."
The special freshman season continues for Rushton, who played in front of a large number of family members who made the trip. She again showed that she can score in a variety of ways, but also bothered the ball out top. Her 27 points were just one shy of a career high. Said Rushton, "It was super nice for my family to come watch me."
Now it's time to get ready for part Concordia-Morningside Part IV. The Mustangs have won the season's first three meetings. Here's a quick look at the matchup in the national quarterfinals. Fifth-seeded Morningside won Friday's late game over 12th-seeded University of St. Francis (Ill.), 53-42.
NAIA National Quarterfinals
Concordia (22-8) vs. Morningside (28-2)
Saturday, March 20 | 8 p.m.
Tyson Events Center | Sioux City, Iowa
Webcast: NAIA Network (fee required)
Live Stats: Dakstats
Radio: 104.9 KTMX-FM Max Country
Commentators: Parker Cyza / Devin Smith
Buy Tickets: LINK
Meetings this season
12/12/20 – Morningside 86, Concordia 67 (Sioux City)
1/16/21 – Morningside 66, Concordia 64 (Seward)
3/2/21 – GPAC Title: Morningside 67, Concordia 65 (Sioux City)
Noteworthy
Concordia and Morningside have met once before in the national tournament. That occurrence played out in 2015 when the Mustangs clipped the Bulldogs, 59-57, in the NAIA Division II national championship game. Drew Olson and Morningside Head Coach Jamie Sale have gone head-to-head for many memorable battles. Sale is 19-15 all-time against Olson. The two coaches have combined for more than 1,000 career wins with Sale (600+) and Olson (400+) both reaching milestones this season.
Projected Starters
Concordia (22-8)
G – Taylor Cockerill, Jr. (14.6)
G – Bailey Conrad, Fr. (4.5)
G – Taysha Rushton, Fr. (14.6)
F – Mackenzie Koepke, Jr. (7.2)
F – Rylee Pauli, Jr. (7.1)
Morningside (28-2)
G – Faith Meyer, Sr. (7.4)
G – Sierra Mitchell, Sr. (17.8)
G – McKenna Sims, So. (7.7)
F – Chloe Lofstrom, Fr. (9.1)
F – Sophia Peppers, Jr. (15.2)
Up Next: Saturday's winner between Concordia and Morningside will have Sunday off before playing in the national semifinals at 6 p.m. CT on Monday (March 22). The semifinal opponent will be either No. 1 Thomas More (Ky.) or No. 9 Dakota State (S.D.).
Highlights courtesy of KCAU.