Transportation issues leaving employees short on work at Kawasaki plant in Lincoln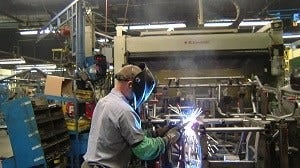 Transportation issues on the West Coast are causing problems for the Kawasaki plant in Lincoln, according to company administrators.
Production at the manufacturing plant has been cut short since Tuesday due to a parts shortage, Director of Administration Jason Hellbusch said.
The shortage is being caused by congestion at ports because so many parts are being imported ahead of impending tariffs, Hellbusch said.
That congestion then leads to delays in trains carrying the parts to Lincoln.
Hellbusch said while Kawasaki is still receiving parts every day, it's hasn't been enough to keep employees busy – which means they've been forced to go home without a full day's pay.
Some are using paid time off to cover the difference, he said.
As far as a number of employees who are left without work, Hellbusch said it depends on the day, as some departments receive more parts than others.
"We hope that this will be a short term situation as it does have a negative effect on our operations and employees," he said.
Hellbusch said, while possible, he doesn't anticipate long-term impacts.
"This is purely a transportation congestion issue," he said.