UPDATE: 2 rescued from trench collapse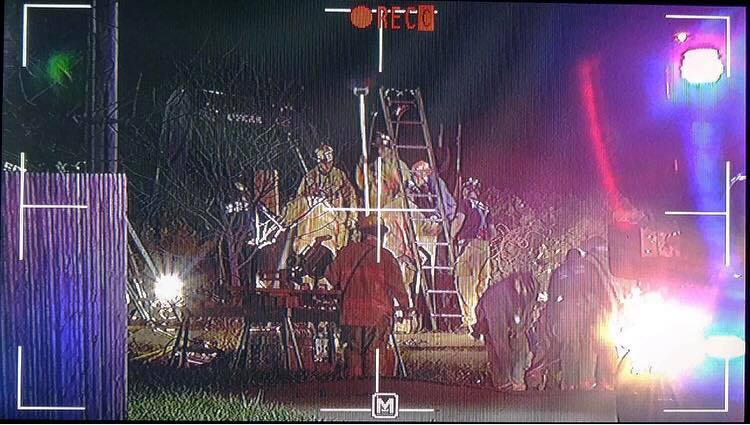 UPDATE:
Rescue crews saved two people who became trapped when part of a trench collapsed Wednesday night.
It happened around 8 p.m. near NW 56th and West Aurora streets.
Acting Battalion Chief Troy Hurd with Lincoln Fire and Rescue tells Channel 8 that the people trapped were working to repair a fiber optic cable that was accidentally cut earlier in the day. The cable provides 911 and other services to the Air Park area and needed emergency repairs.
Rescue crews say the first man became trapped in the 6 foot trench up to his waist, with his legs and pelvis buried. Before Lincoln Fire and Rescue and other officials got to the scene, the man's co-workers tried to dig him out using shovels and a backhoe. Officials say another man became stuck during this time and the trench increased to 10 and a half feet deep.
More than a dozen first responders were on the scene, including Lincoln Fire and Rescue, Lincoln Police Department, Lincoln Electric System, and Black Hills Energy.
LFR also had to request a wet vac truck system, which helps to vacuum away the dirt to free the victims. This system is owned by Lincoln Public Works.
After 19 minutes of work, the man, who became trapped second, was freed.
Next, rescue crews had to shore up the trench to be able to safely save the other man.
After an hour and 29 minutes, the man, who became trapped first, was removed from the trench.
Officials say both men were taken to the hospital and their conditions are unknown at this time.
LFR credits the fast and thorough response by all the needed agencies.
OSHA will be investigating.
____________________________________________________________
According to scanner traffic, a 6 foot deep trench collapsed in northwest Lincoln, trapping two people.
It happened around 8 p.m. Wednesday evening near Northwest 56th and Aurora Streets.
Lincoln Fire and Rescue are on the scene and can be seen using ropes and ladders into the trench.
It looks to have happened at a construction site.
Channel 8 has a reporter on the scene bringing us the latest details.
Please check back for updates.